Collagen Marino (Pure hydrolyzed)
Regular price
Rs. 899.00
Sale price
Rs. 499.00
44%
( 44% )
You save:
Rs. 400.00
( 44% )
Unit price
per
Sale
Sold out
Regular price
Rs. 899.00
Sale price
Rs. 499.00
44%
( 44% )
You save:
Rs. 400.00
( 44% )
Unit price
per
Sale
Sold out
Offers Available
FLAT 5% OFF
ON FIRST ORDER
copy
Get Additional 5% Off
on prepaid Payments
copy
INSTRUCTION OF SUPPLEMENT
Having patience & embracing the change.
Store in a cool & dry place.
Mix a scoop of Collagen powder in a glass of 250ml water & consume it every morning.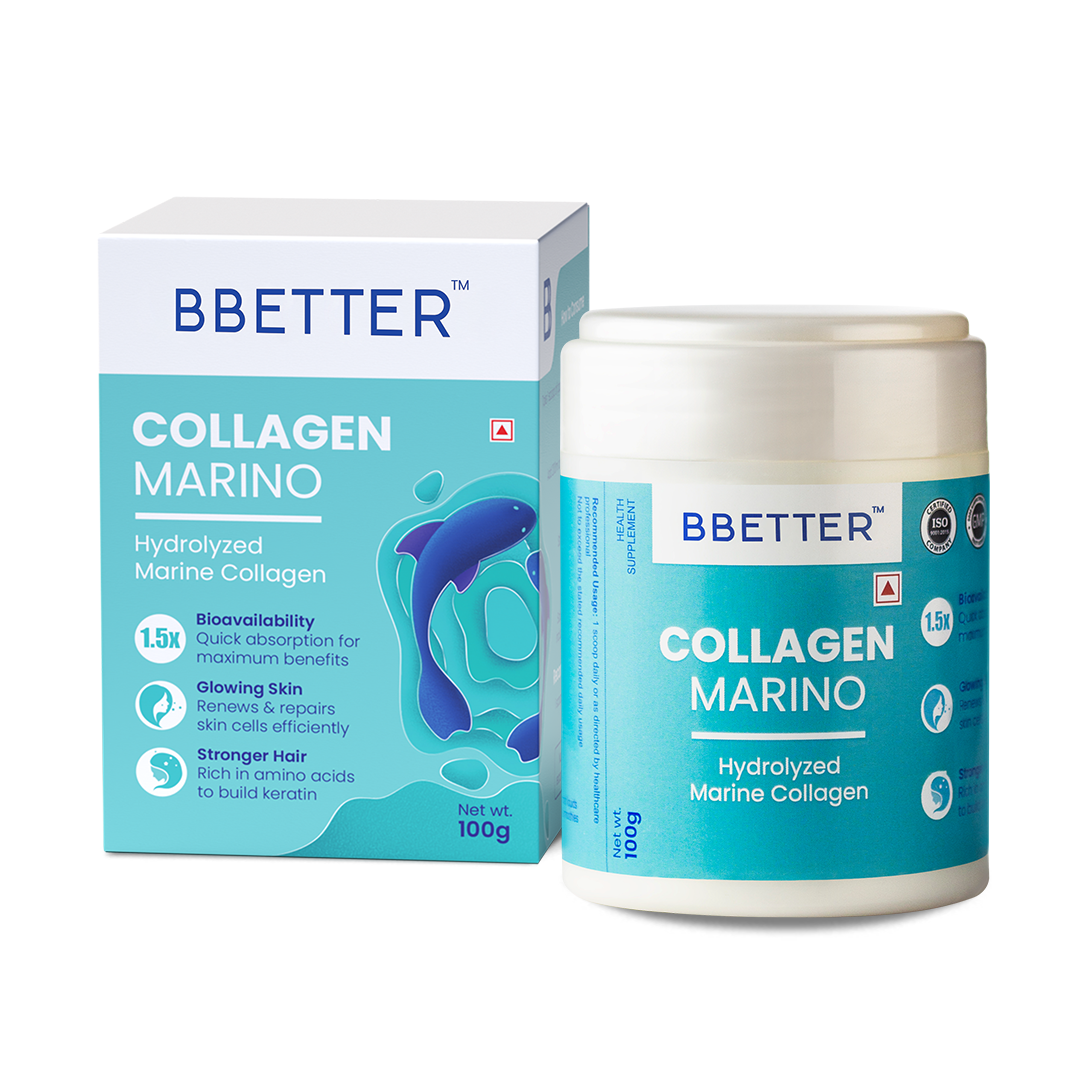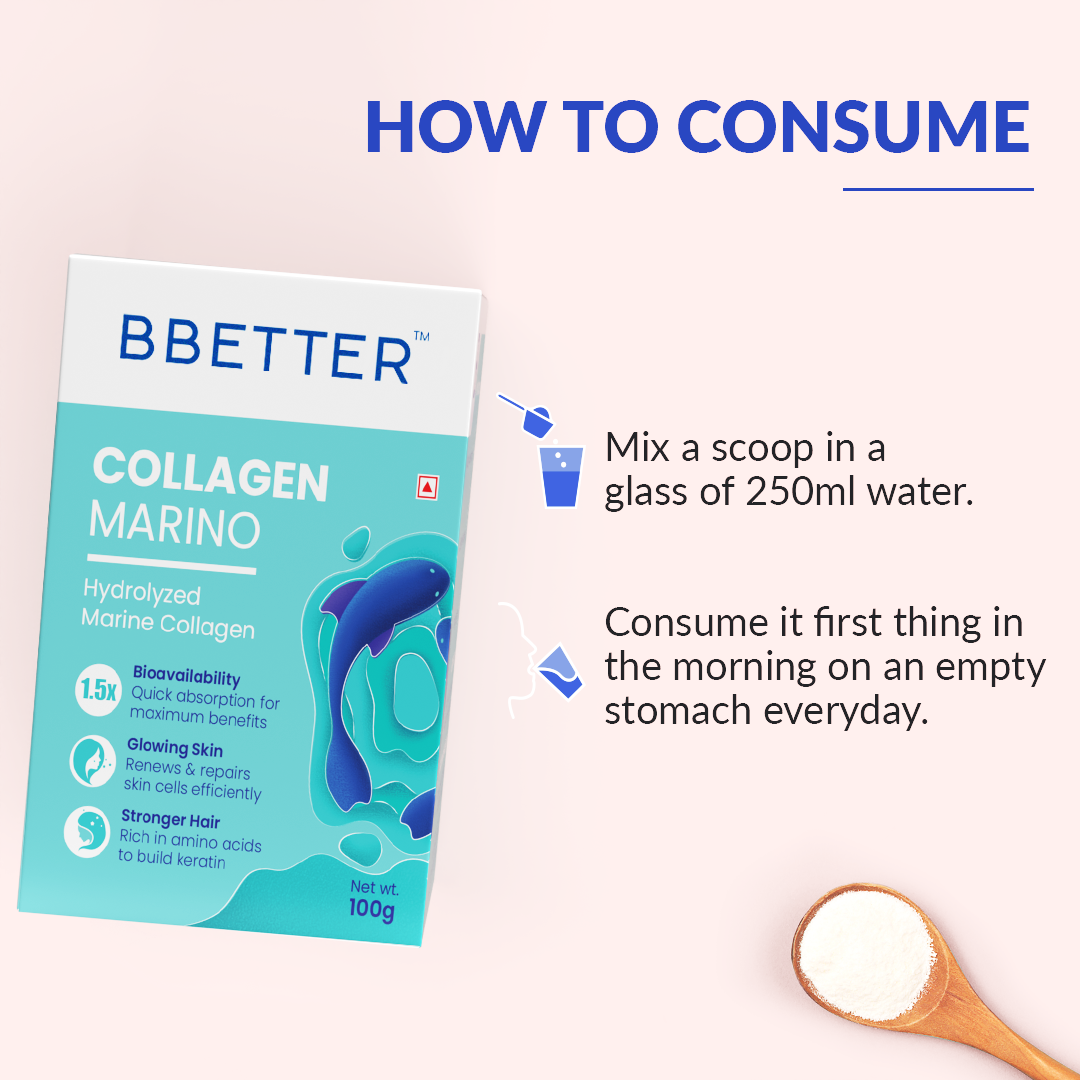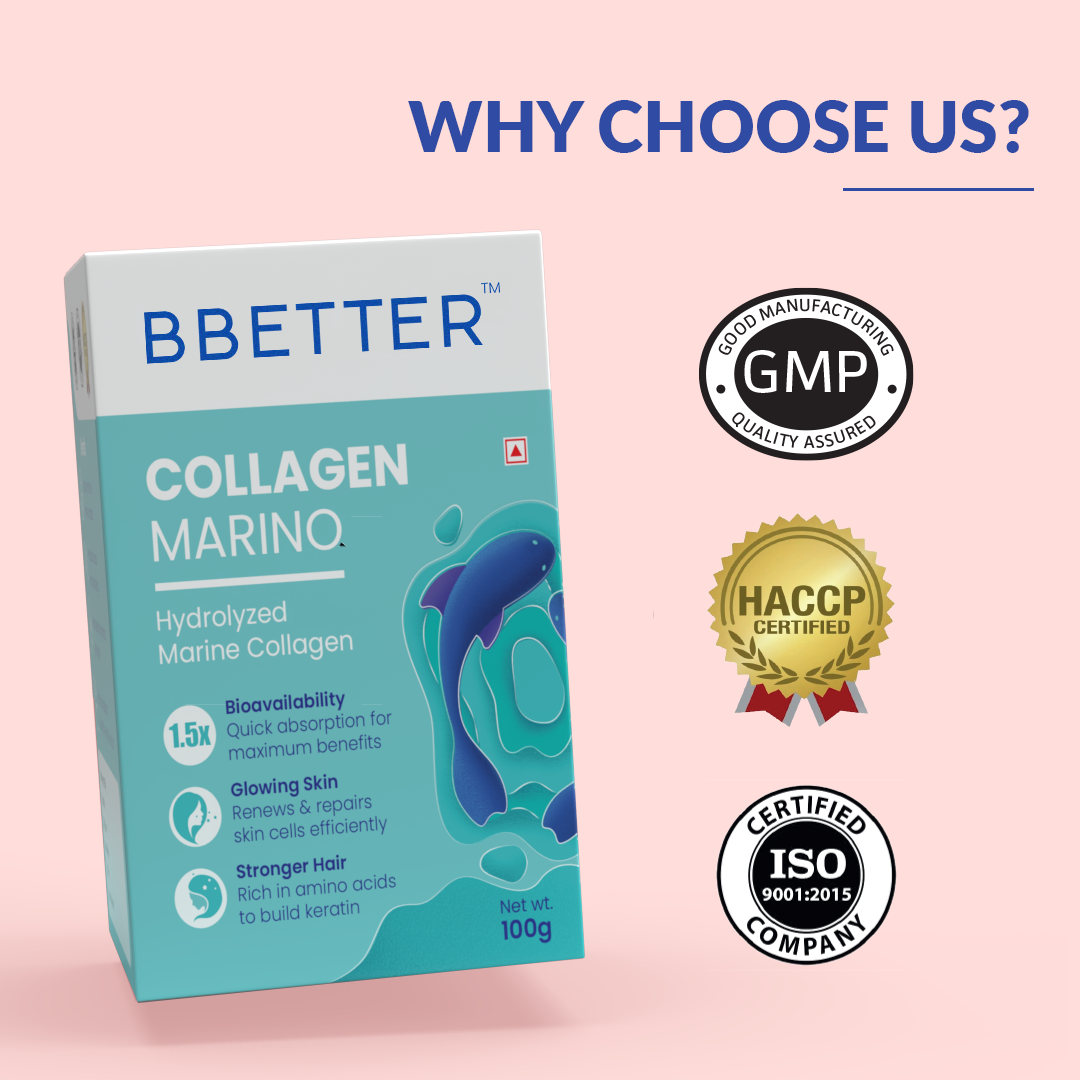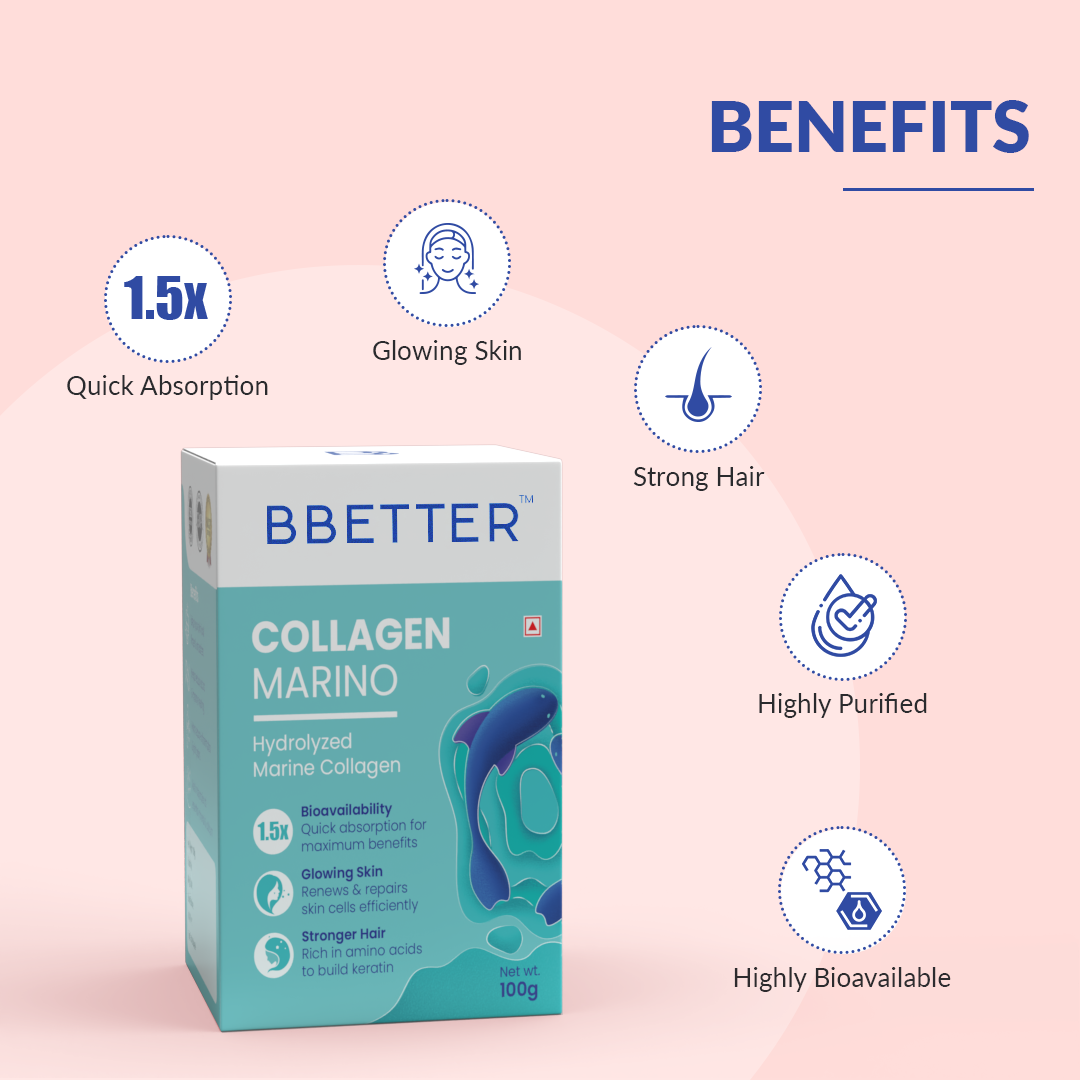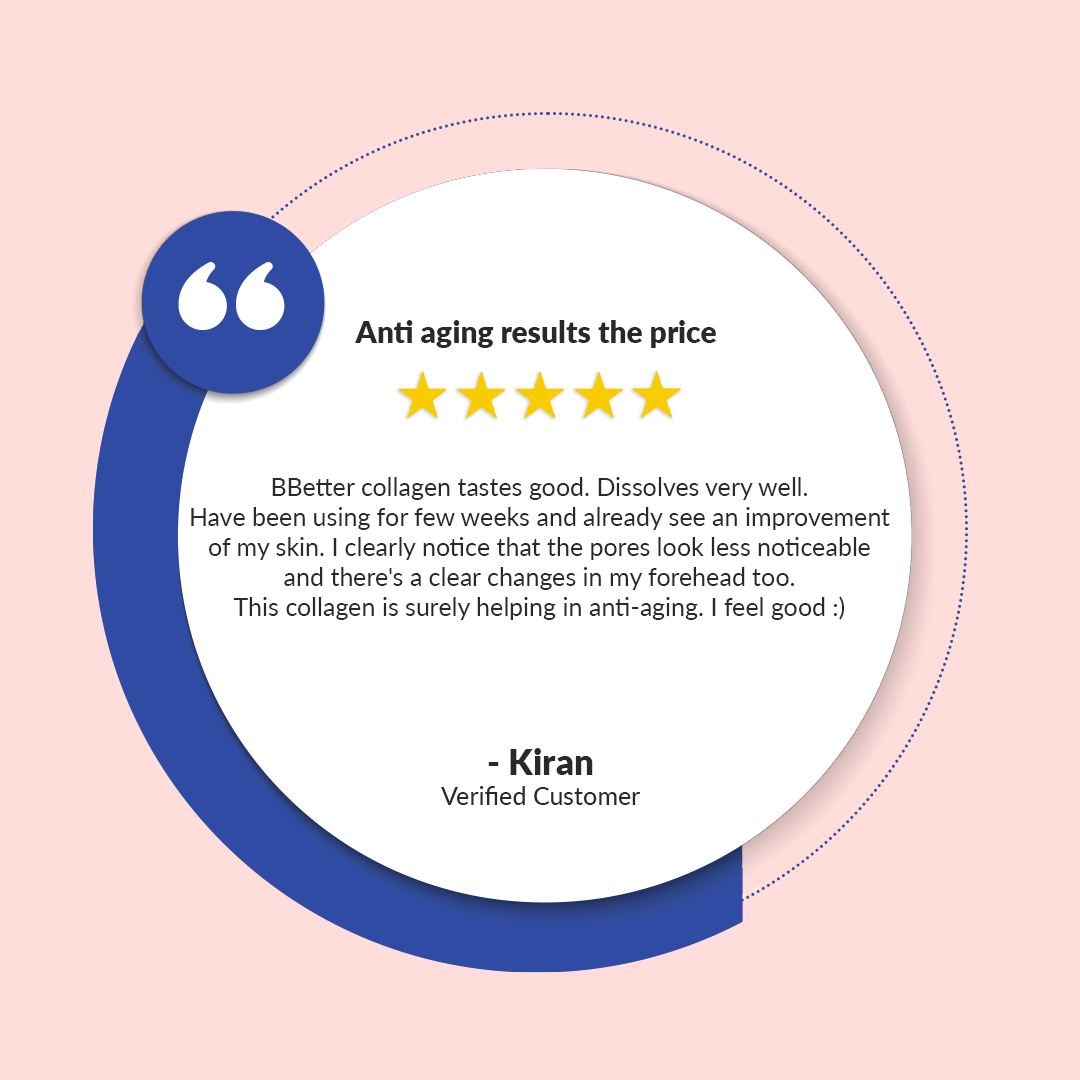 About Collagen Marino (Pure hydrolyzed)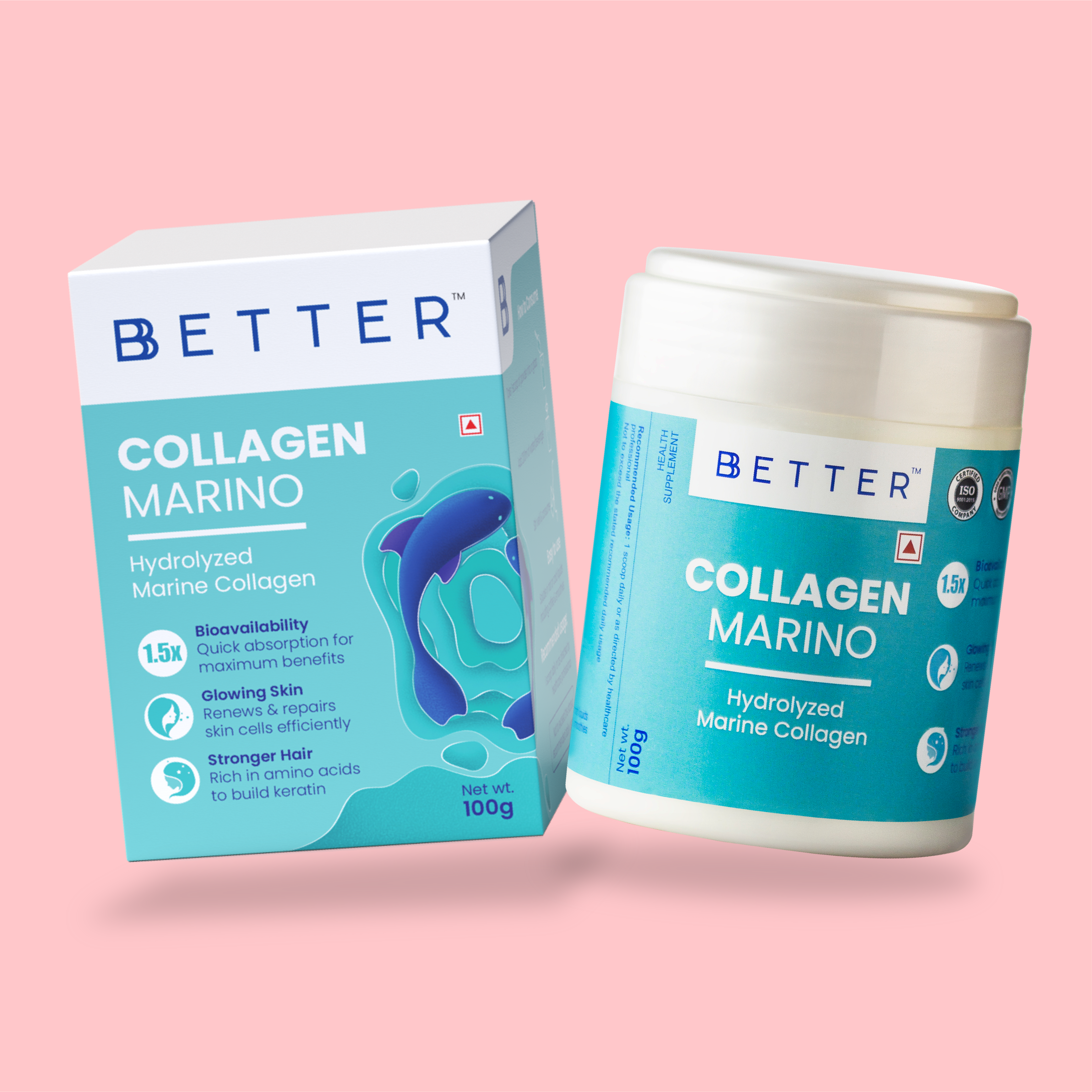 BBETTER Collagen Marino is here to be the hero of your aging skin issues and weak hair quality if your home remedies didn't quite do the job for you. No matter how many ointments, oils, or packs you apply on the outside with the hope for flawless skin and hair as strong as your will, if there is a lack in your nutrition it can only be worked on from the inside. Loose or dry skin, weak nails, and hair are signs that your body currently lacks the protein to get you rid of these issues. Marine Collagen is a pure protein that has proven to be the solution to all your skin, hair, and nail issues. Consuming BBETTER Collagen Marino will get you feeling all nourished, healthy, and confident as you would no longer have to worry about these petty issues.
Collagen Marino (Pure hydrolyzed) Key Benefits
Improves the elasticity of your skin.
Results in more youthful skin.
Visible effects in just 2-3 months.
Over 4500 Indian Athletes Trust BBETTER
Our Indian athletes use BBETTER supplements regularly and also won medals for India in International Championships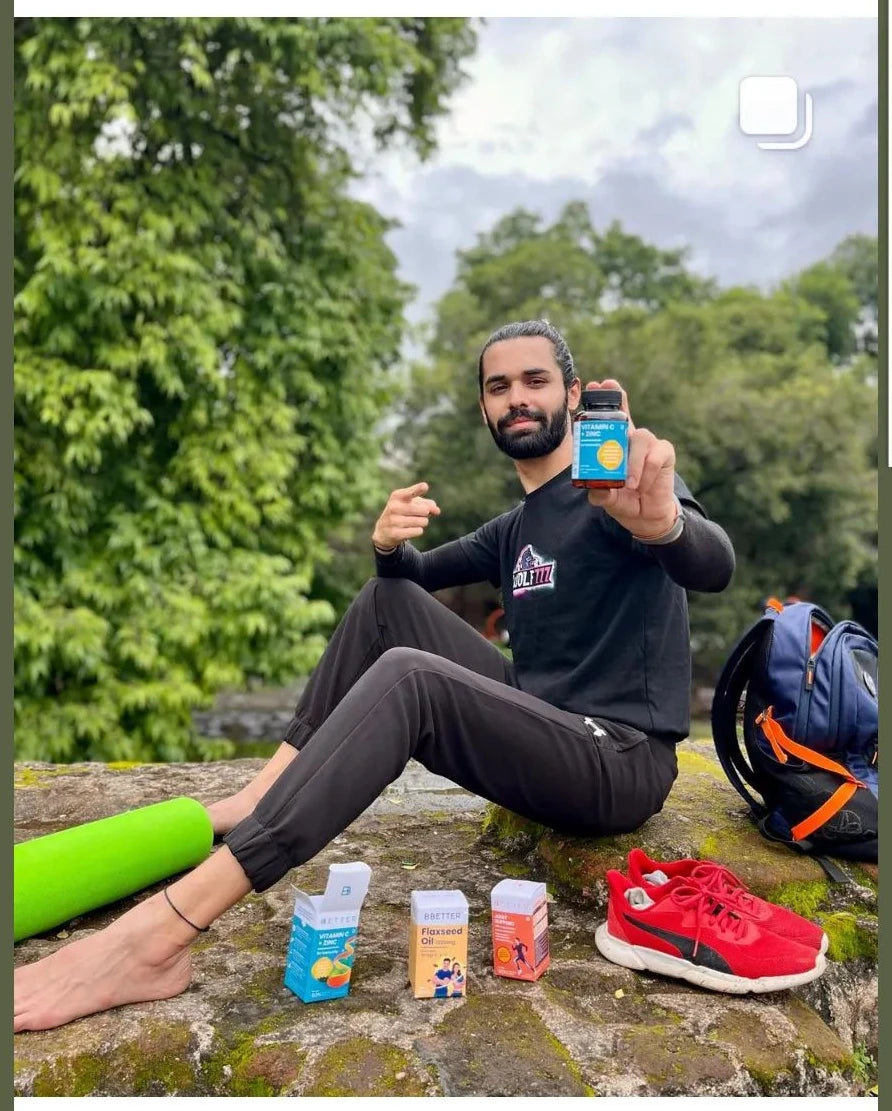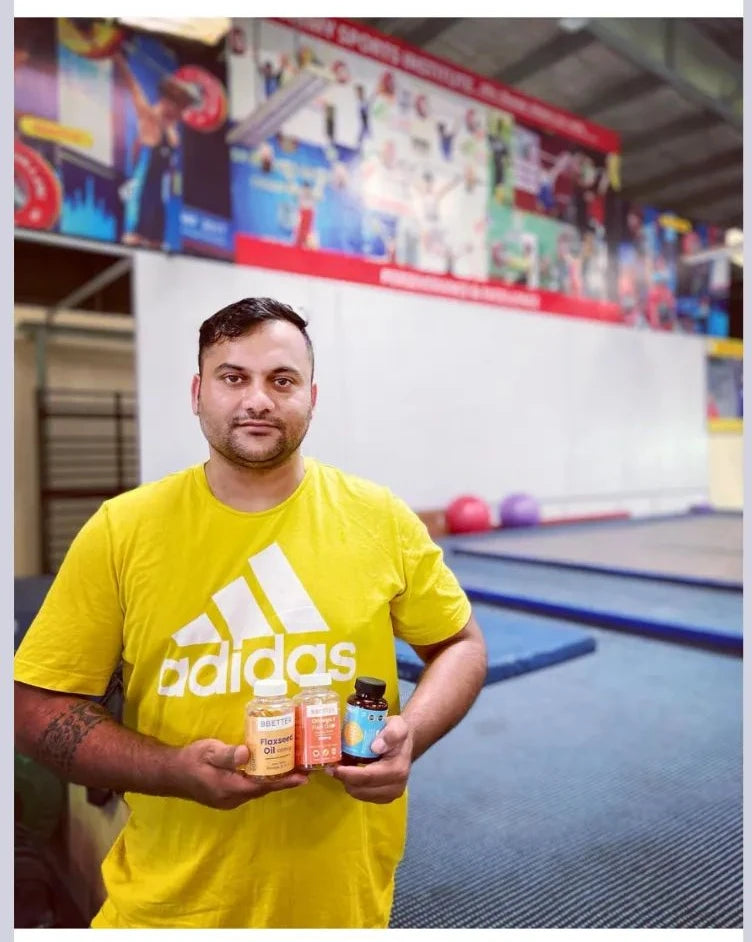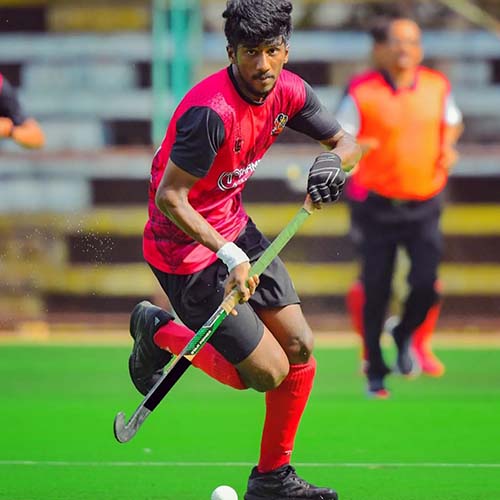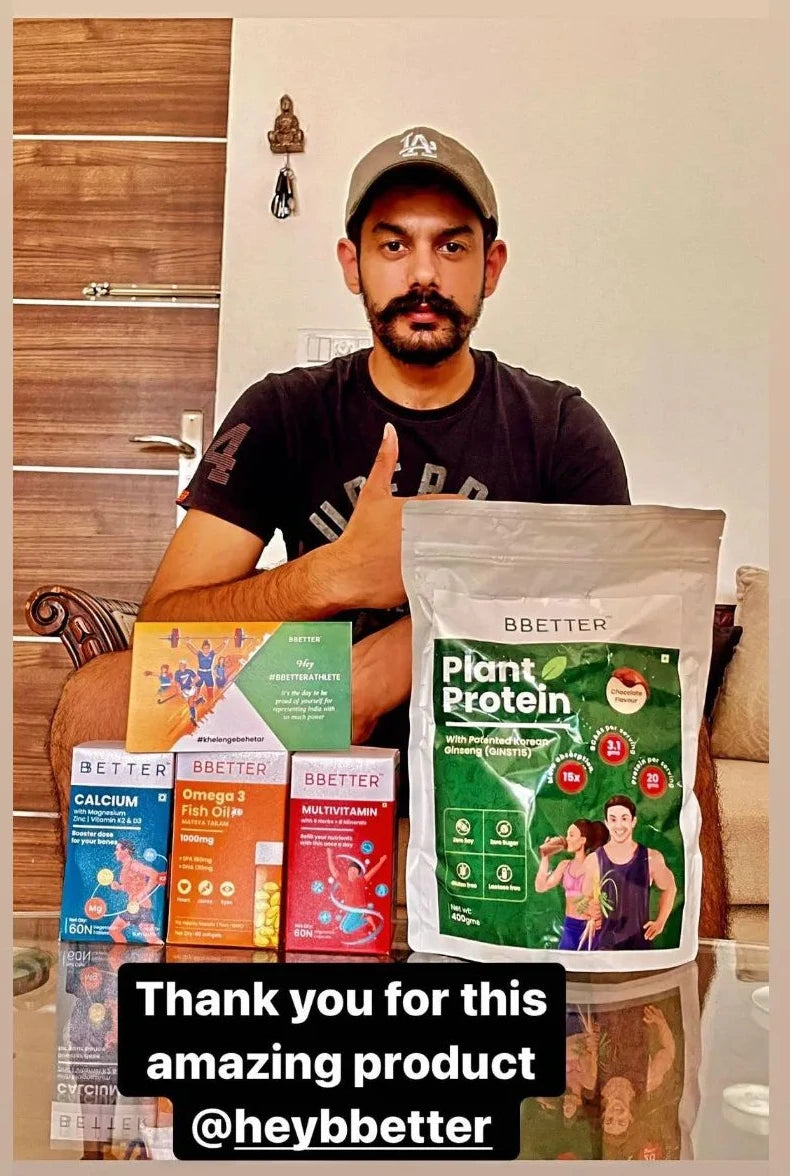 Who will benefit from
You can benefit from this if :

You are in your 20s, 30s or above.
You have a little FOMO on your youthful skin & hair.
You believe in precautions and taking care of your body from an early age.
You are looking for something to improve your skin elasticity and hair strength.
How Collagen Marino (Pure hydrolyzed) works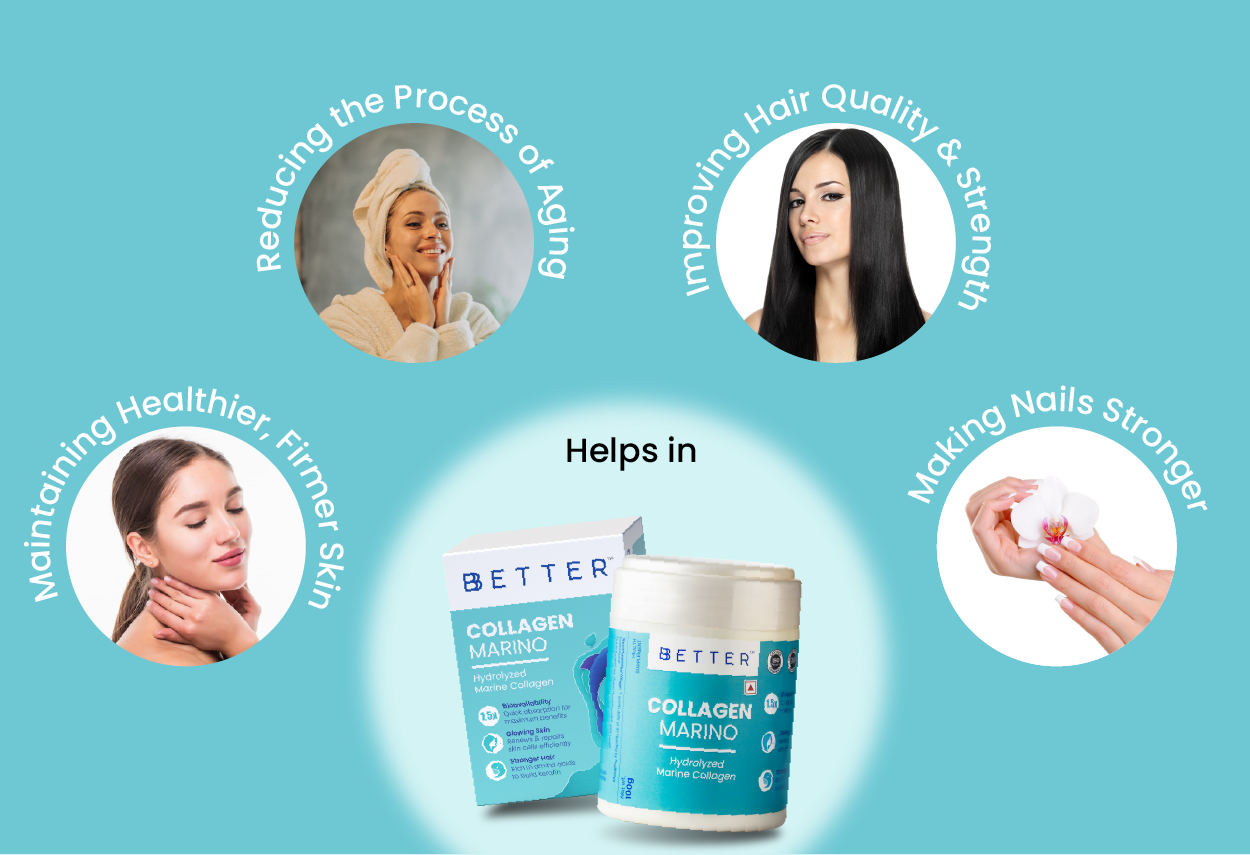 As you consume Collagen Marino overtime it
Helps increase muscle mass
Helps improve skin elasticity
Helps reduce skin dryness
How to Consume Collagen Marino (Pure hydrolyzed)
Mix a scoop of Collagen powder in a glass of 250ml water & consume it every morning.
Having patience & embracing the change.
Benefits of Collagen Marino (Pure hydrolyzed)
Helps improve skin elasticity- If you don't want to undergo the torture of needles and lengthy procedures for your skin as you age, nourishing your body the right way is your best solution. Marine collagen is considered to be the purest form of collagen. Consuming collagen from an early age can help prevent premature wrinkles and boost skin elasticity for longer. It helps improve skin elasticity, moisturize the skin & improve the density of collagen fibers in your skin. 
Easy to digest protein- Everyone keeps talking about how crucial protein is as a part of your nutrition, but it is quite a task for your stomach to digest. When you consume chicken, or beef as your protein sources, your body struggles hard to digest it. Although collagen powder is hydrolyzed, meaning it is broken down, making it easier for your body to digest. If you observe discomfort after consuming other sources of collagen it might be the time to make a switch. 
Helps lower joint discomfort- Collagen helps maintain your cartilage integrity. Cartilage is the rubber-like tissue that protects your joints. Any harm to your cartilage can be damaging to your joints as well. As you boost the amount of collagen in your body, your risk of degenerative joint disorders like osteoarthritis decreases. 
Helps maintain bone health- Collagen powder is a highly beneficial supplement to restore mineral density, boost healthy bone metabolism, ism, and help maintain bone health. Collagen is the peptide that helps your bone maintain strength, flexibility, and hardness.
Helps improve hair health- Collagen powder has been found to improve hair health. The amino acids in collagen powder can be used by your body to build hair proteins, and strengthen the skin with hair roots. It might also help prevent hair follicle damage & hair graying.
Helps improve nail health- Is your manicure salon unhappy with how weak your nails have become? Nail damage or weakness can be a sign that you need to pay more attention to your nutrition. Collagen helps feed your nail beds with amino acid arginine, which helps promote overall nail health. Collagen supplementation can help improve your nail strength and growth by preventing brittleness
FAQ's
Will this protein help in weight loss?
Protein-rich supplements play an important role in improving your body's metabolism. Better metabolism results in better speed for burning calories. As BBETTER Collagen Marino is 60% protein, it might indirectly help you in your weight loss journey.
Where is this collagen sourced from?
BBETER Collagen Marino is extracted from the firm parts of a variety of fish. Marine sources are considered to be the best sources of collagen.
Are there any side effects?
Marine Collagen doesn't really have many significant side effects. As long as you stick to the dosage and consult your physician, you are good to go.