KSM 66 Ashwagandha
Regular price
Rs. 2,099.00
Sale price
Rs. 999.00
52%
( 52% )
You save:
Rs. 1,100.00
( 52% )
Unit price
per
Sale
Sold out
Regular price
Rs. 2,099.00
Sale price
Rs. 999.00
52%
( 52% )
You save:
Rs. 1,100.00
( 52% )
Unit price
per
Sale
Sold out
Offers Available
FLAT 5% OFF
ON FIRST ORDER
copy
Get Additional 5% Off
on prepaid Payments
copy
INSTRUCTION OF SUPPLEMENT
Store in a cool & dry place
Take one capsule every day with 100-150ml of water after food.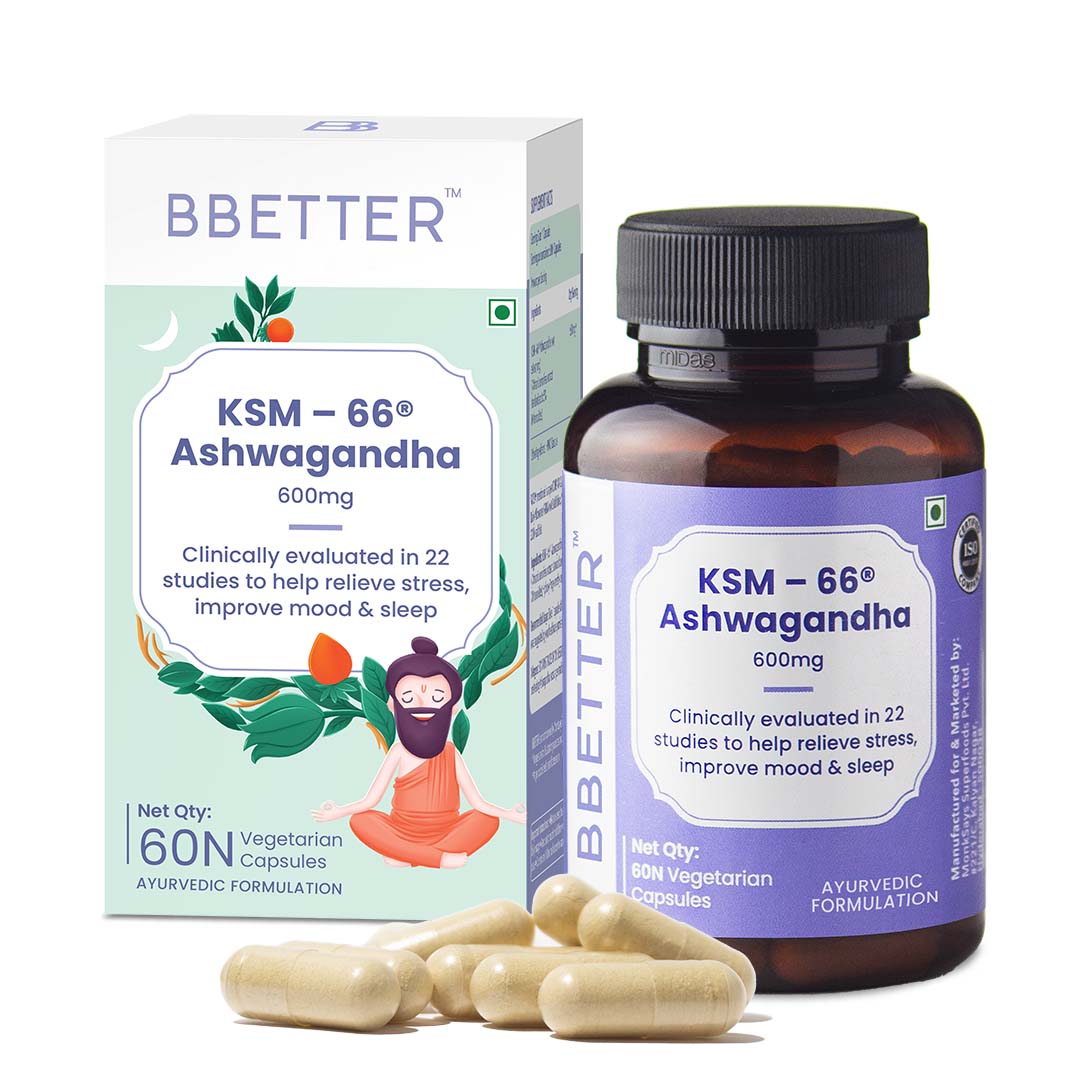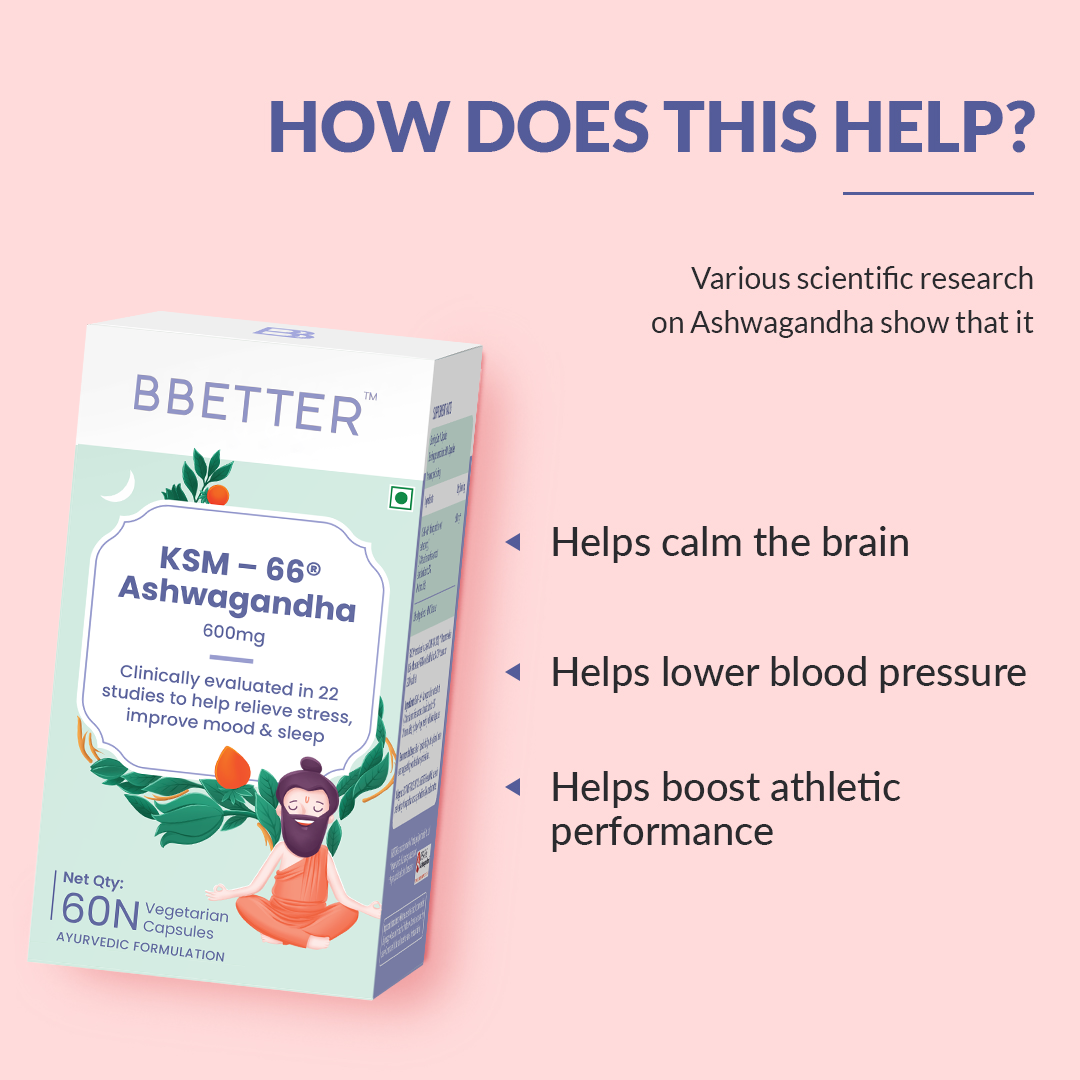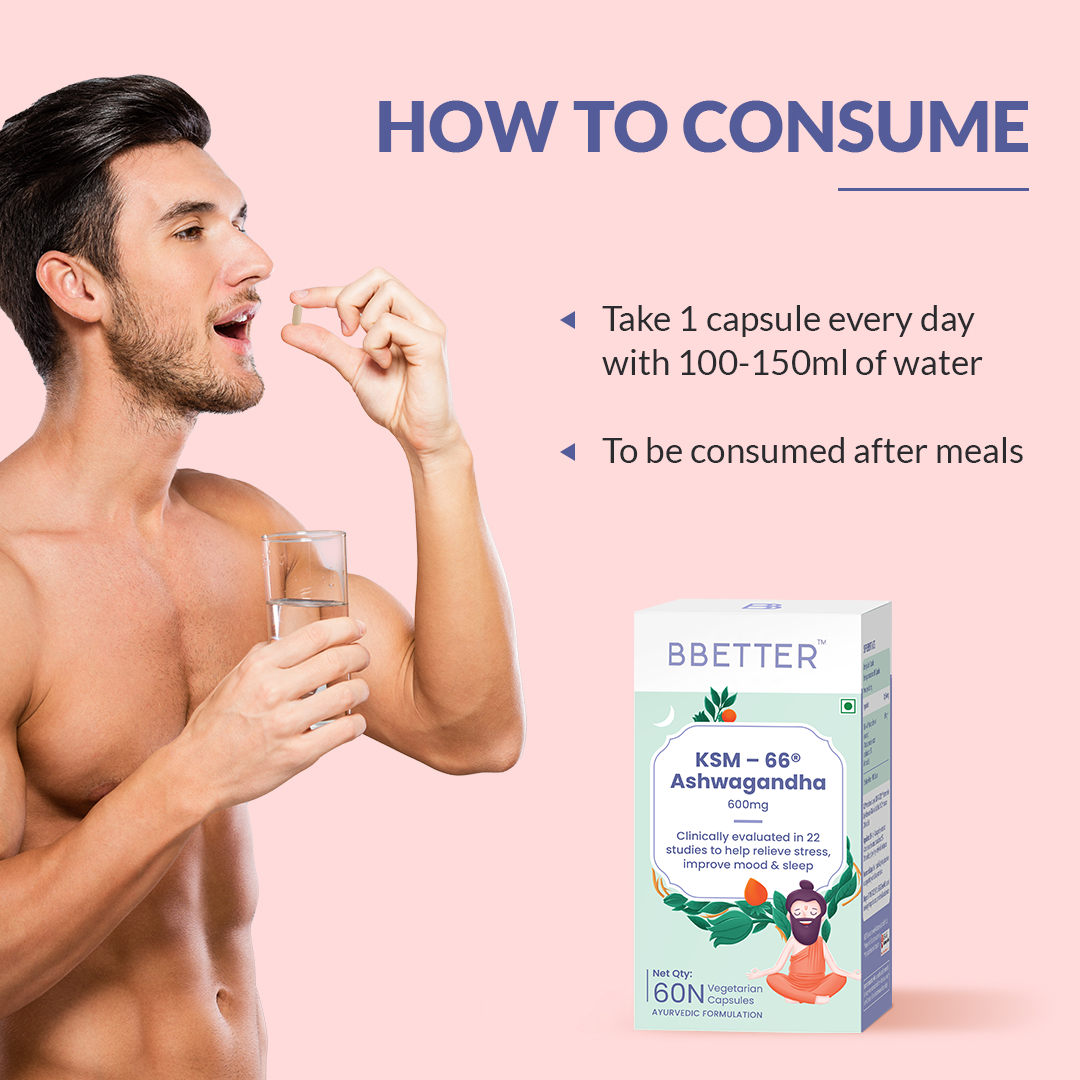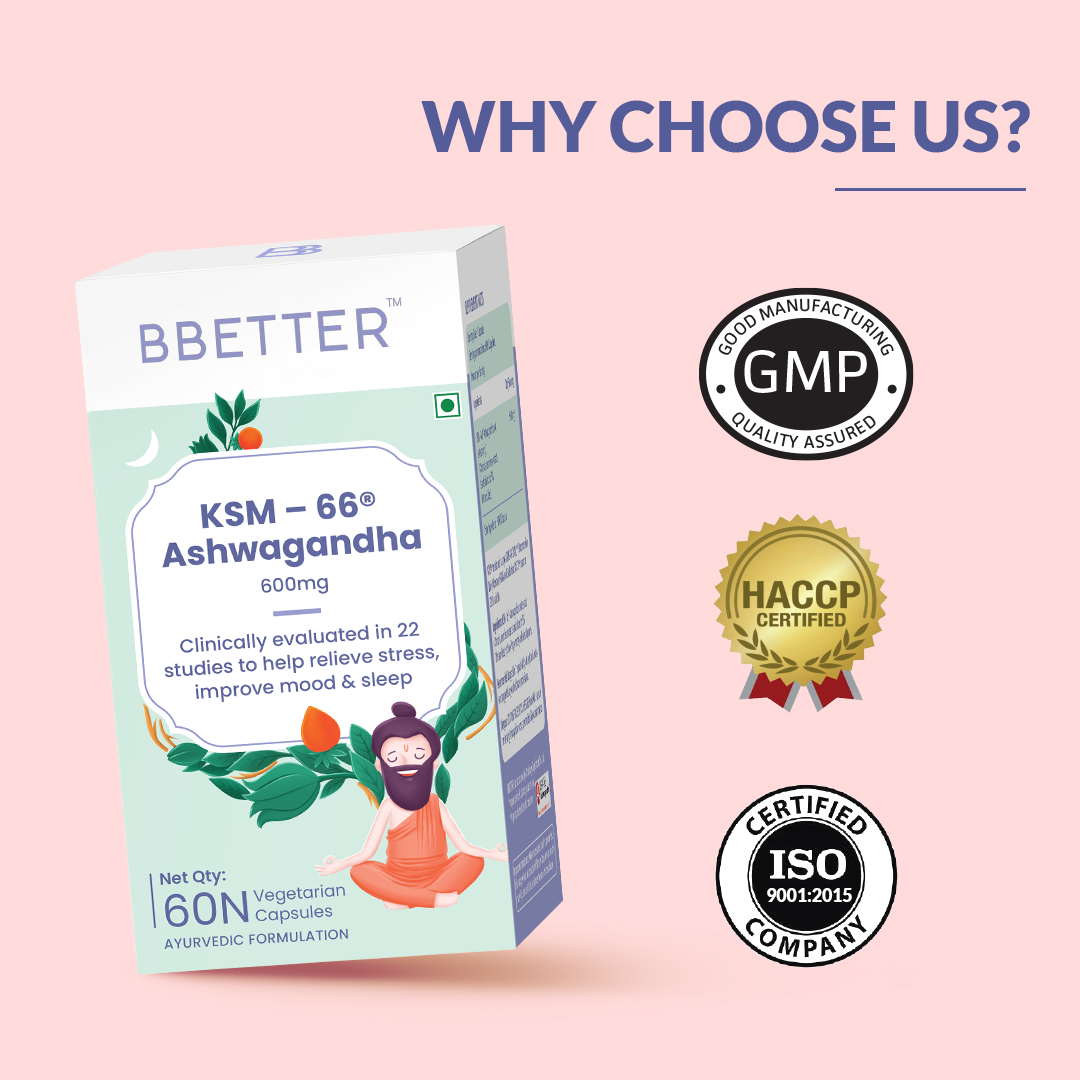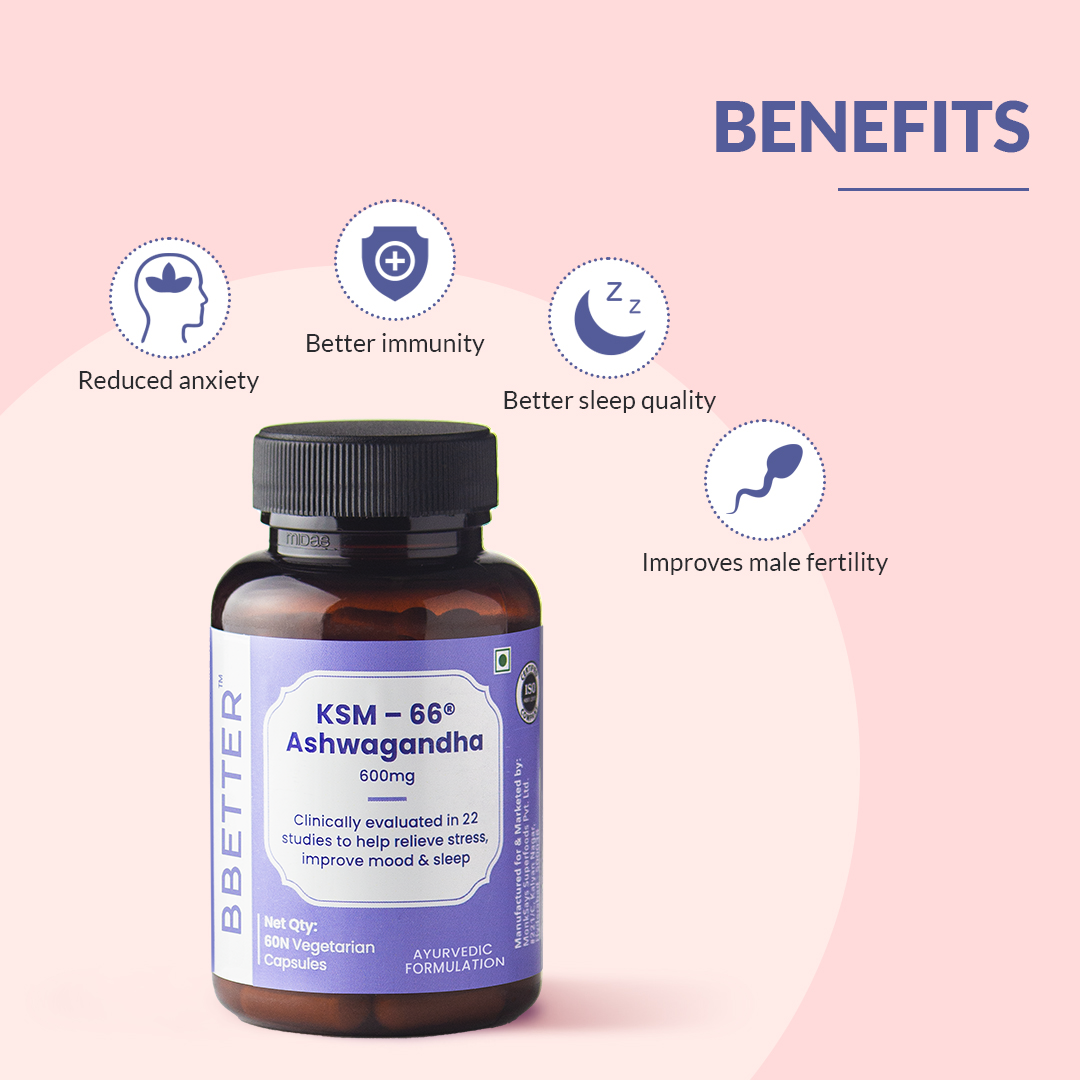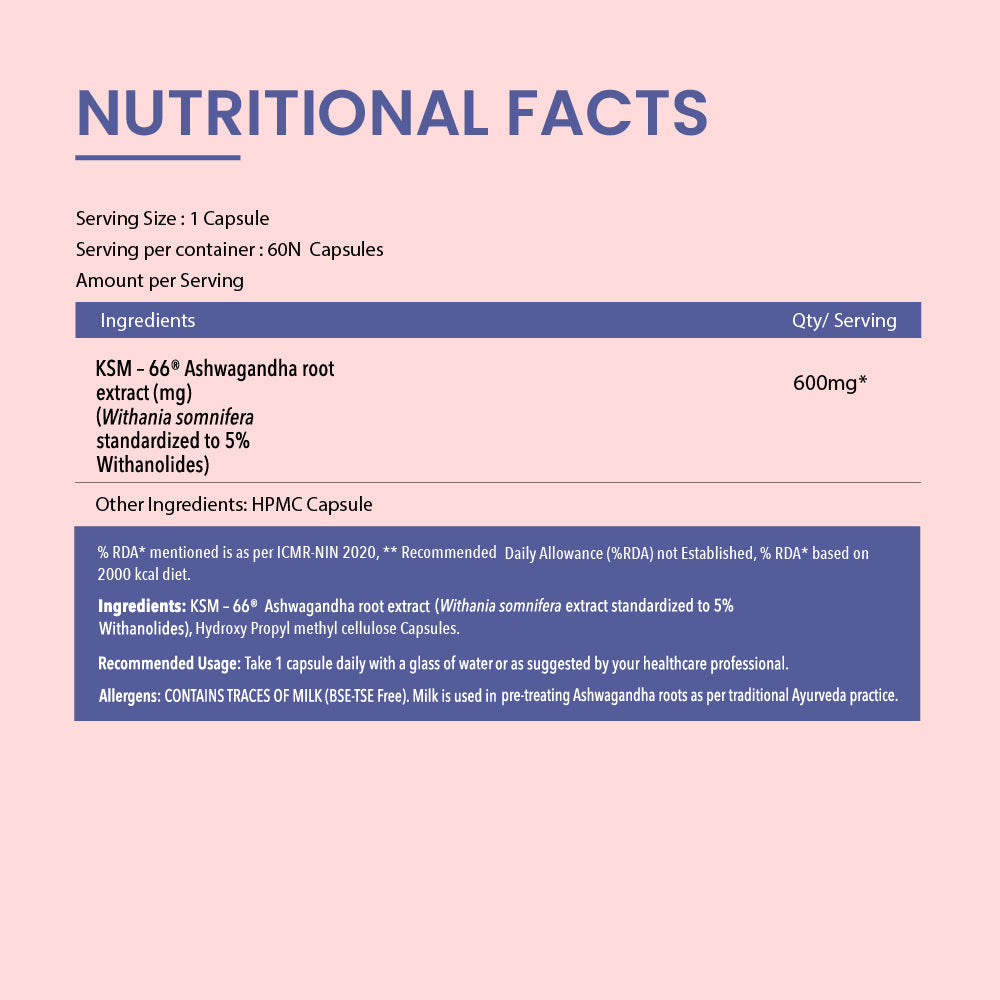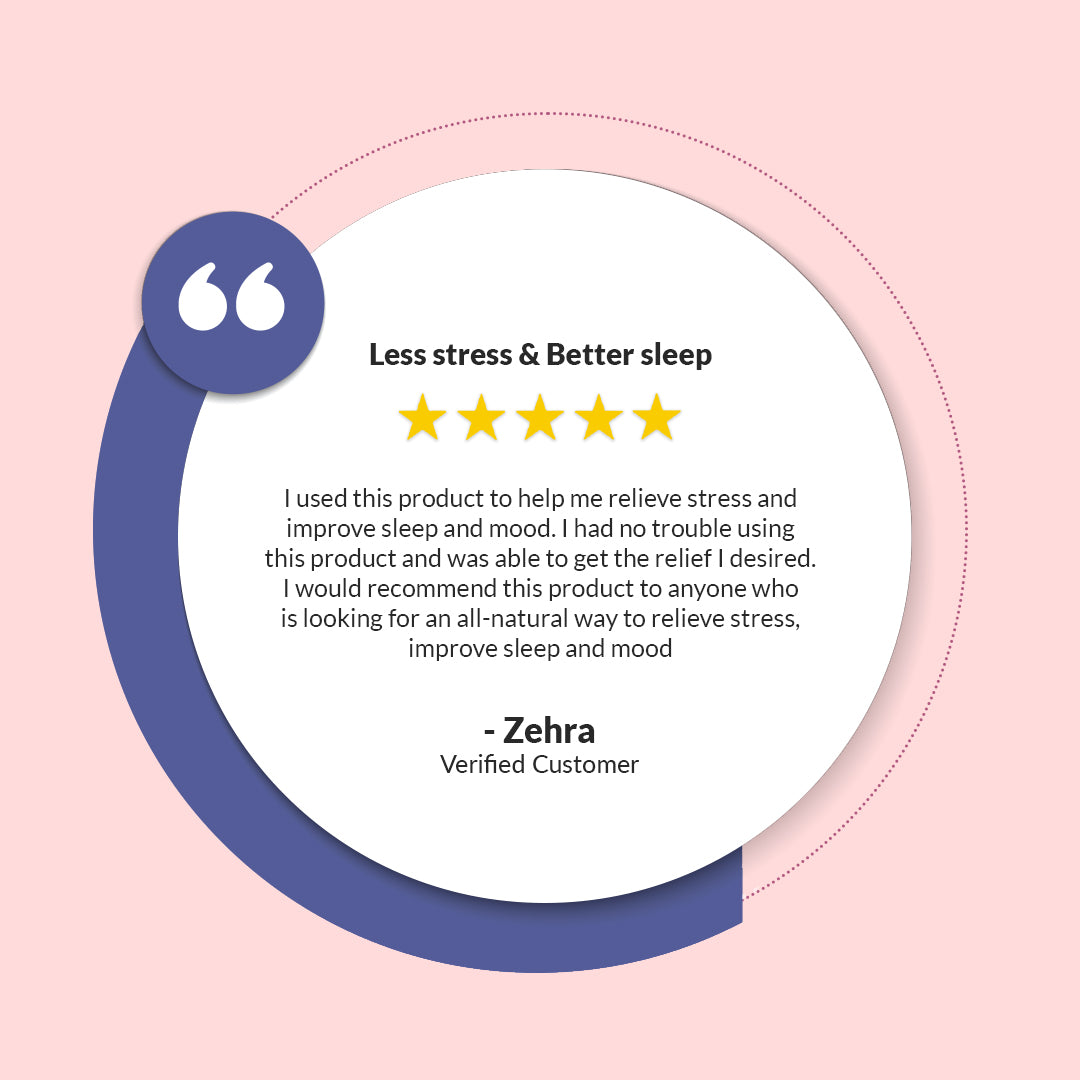 About KSM 66 Ashwagandha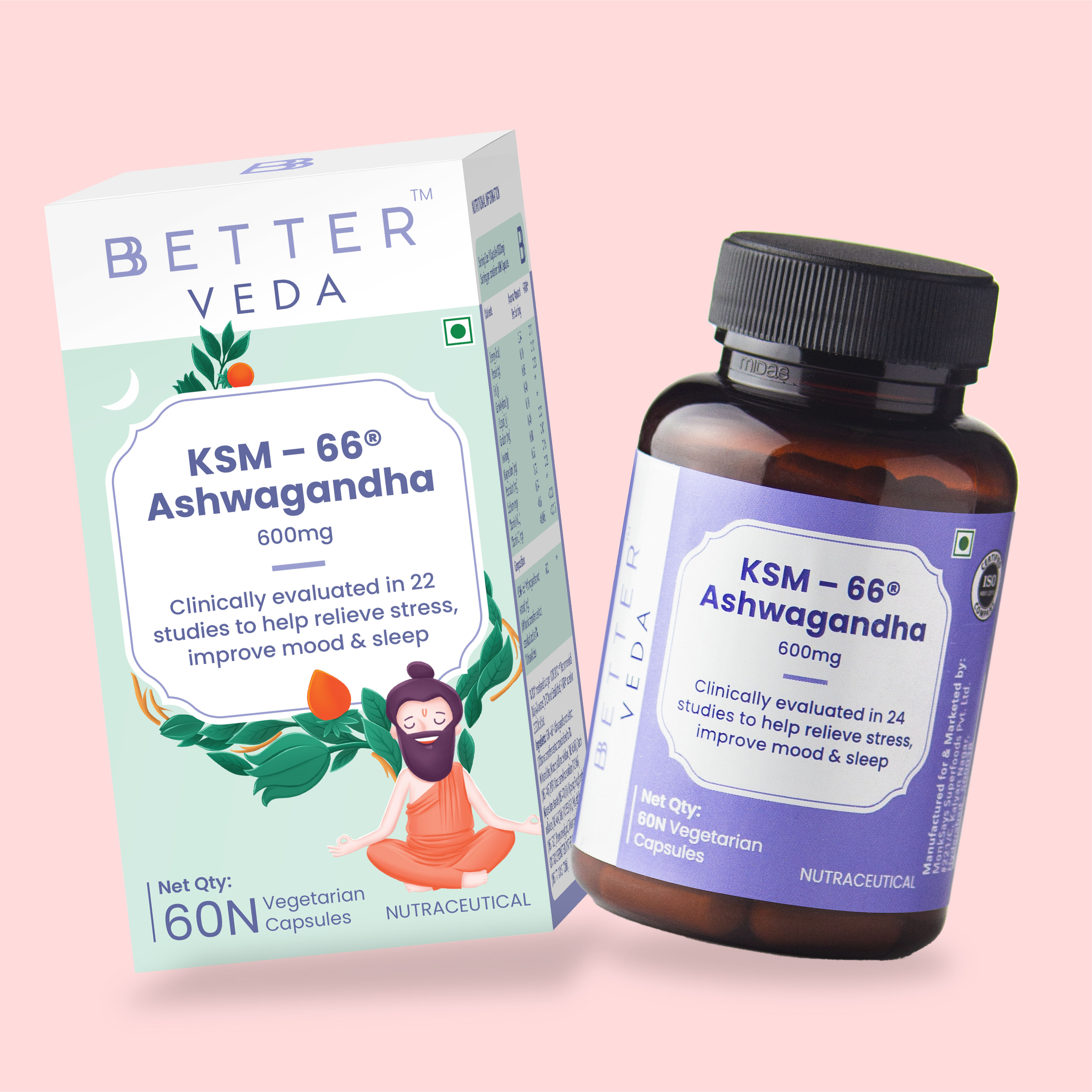 BBETTER Ashwagandha is formulated with KSM-66 Ashwagandha that is considered to be the best in the world as its roots are dried in controlled conditions to ensure maximum potency. It is then carefully processed to retain complete biological activity. Apart from its well-known biological benefits, the amount of proven impact it can make on your mental health, anxiety, and sleep is incredible. There are no fewer stress triggers in your environment today and hence it needs to be addressed with the right nourishment. Prolonged stress is good for no one.
KSM 66 Ashwagandha Key Benefits
Helps improve sleep efficiency.
Helps improve male performance.
Over 4500 Indian Athletes Trust BBETTER
Our Indian athletes use BBETTER supplements regularly and also won medals for India in International Championships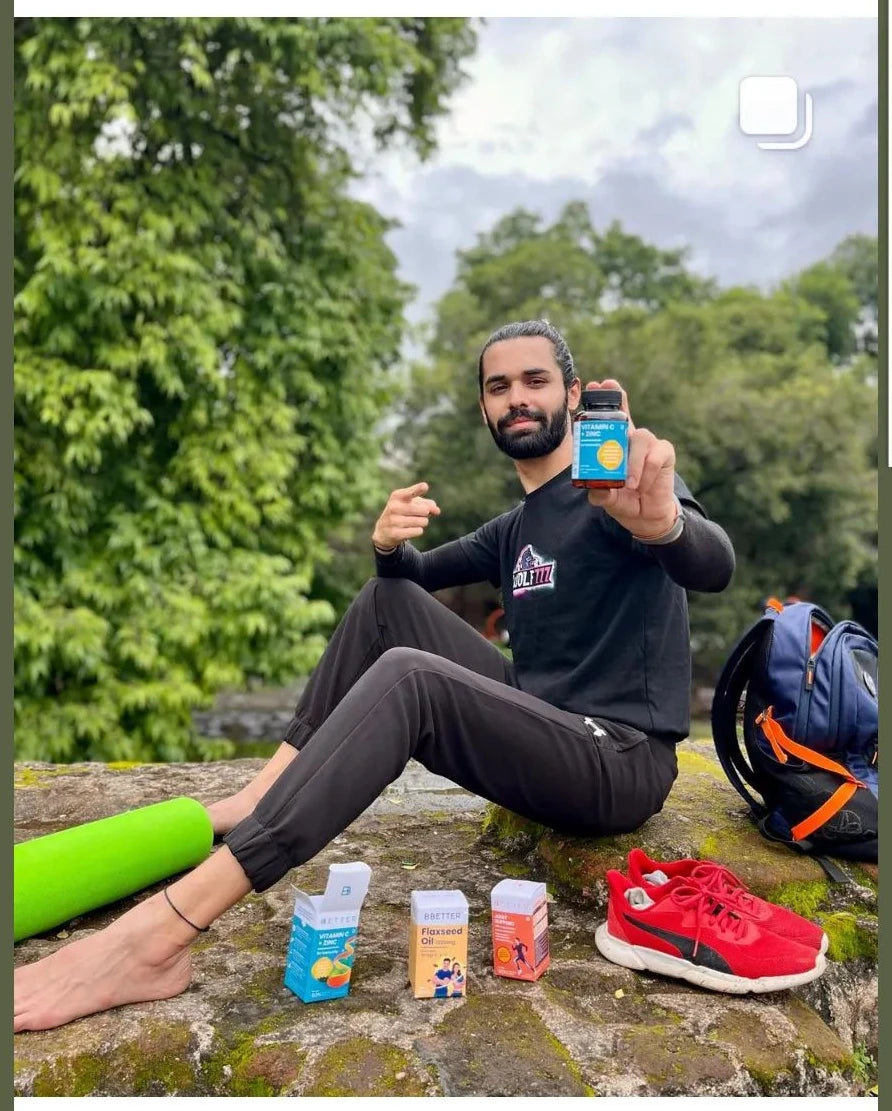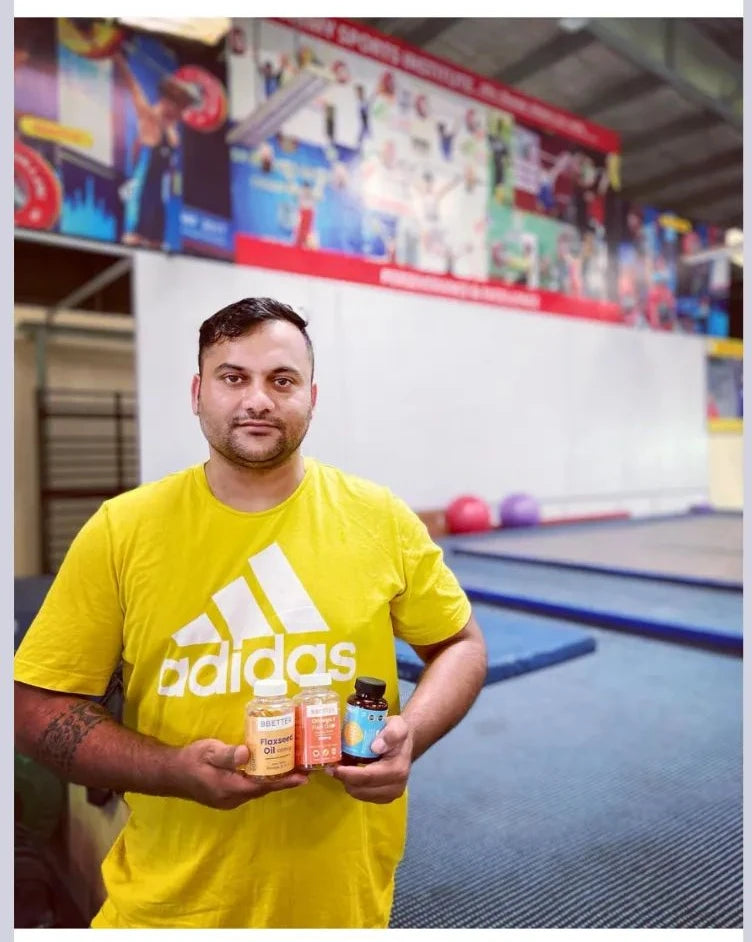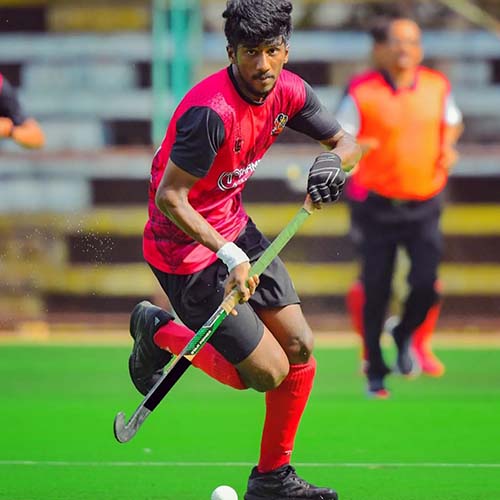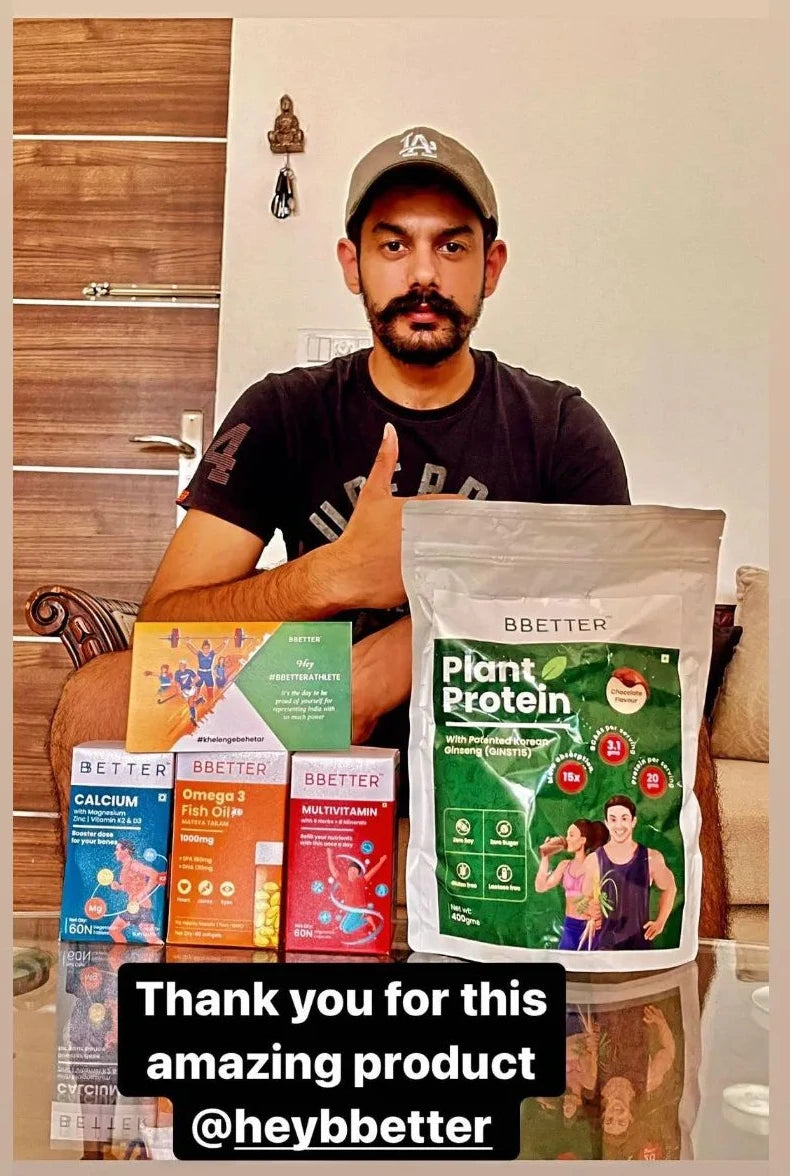 Who will benefit from
You can benefit from this if:
You are 18 years old and above.
You have had a stressful or anxious few days.
You want to consciously work on reducing the effects of anxiety on your health.
How KSM 66 Ashwagandha works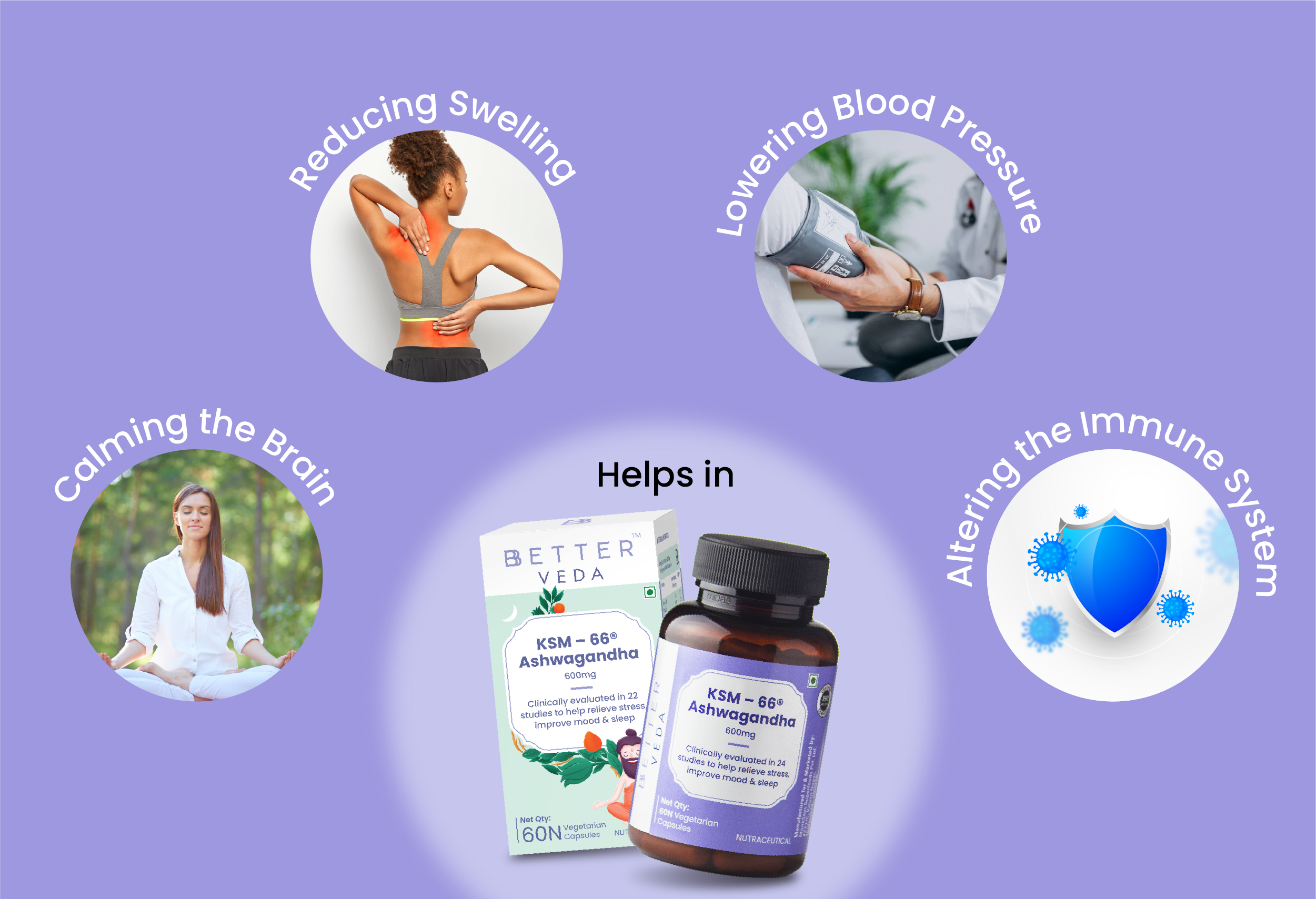 Helps in
Calming the brain
Reducing Swelling
Lowering blood pressure
Altering the immune system
How to Consume KSM 66 Ashwagandha
Take one capsule every day with 100-150ml of water after food.
KSM 66 Ashwagandha Nutritional Information
Nutritional Facts
Serving Size : 1 Capsule (1000mg)
Serving per container : 60N Capsules
| Nutrients | Approx. Amount Per Serving | %RDB* |
| --- | --- | --- |
| Energy (kcal) | 2.54 | 0.11 |
| Protein (g) | 0.10 | 0.17 |
| Fat (g) | 0.05 | 0.20 |
| Carbohydrate (g) | 0.40 | ** |
| (Sugars) (g) | 0.10 | ** |
| Calcium (mg) | 0.40 | 0.07 |
| Iron (mg) | 0.08 | 0.47 |
| Magnesium (mg) | 0.53 | 0.16 |
| Potassium (mg) | 1.73 | 0.08 |
| Composition : | Approx. Amount Per Serving | % RDA* |
** % RDA* mentioned is as per ICMR 2010, ** Recommended Daily Allowance (% RDA) not Established; % RDA* based on 2320 kcal diet.
Ingredients: KSM – 66® Ashwagandha root extract (Withania somniera extract standardized to 5% Withanolides), Microcrystalline cellulose (INS 460(i)), Starch (INS 1405), PVPK, Cross carmellose sodium (INS 466), Magnesium stearate (INS 470 (iii)), Hydroxy Propyl methyl cellulose (INS 464), Talc (INS 553 (iii)), Poly ethylene glycol (INS 1521), Propylene glycol, Silicon dioxide (INS 551).
CONTAINS PERMITTED SYNTHETIC FOOD COLOUR (INS 171 & INS 172(ii)).
Benefits of KSM 66 Ashwagandha
Helps relieve stress and anxiety- Ashwagandha is considered to be an adaptogen, which is a herb that helps the body adapt to stress. It has been used traditionally in Ayurveda as a herb that helped treat insomnia. As sleep also affects stress and anxiety, Ashwagandha eventually helps reduce the symptoms of stress and anxiety by helping you sleep better. 
Helps lower blood Sugar- Ashwagandha has been found helpful in reducing blood glucose and triglycerides levels. Ashwagandha affects secretion & cells' ability to absorb glucose from the bloodstream.
Acts as an aphrodisiac- When Ashwagandha is consumed by men, the production of nitric oxide is stimulated in the body. This dilates the blood vessels carrying blood to the genitals and further increases drive and satisfaction. When consumed by women, Ashwagandha helps increase libido & satisfaction.
Helps boost fertility & testosterone levels in men- Ashwagandha is a herb that has been effectively used in cases of stress and infertility. As Ashwagandha helps improve blood circulation throughout the body, it naturally enhances sperm quality.
Helps improve memory and focus- Research suggests that Ashwagandha might affect promoting neuronal growth and protecting neurons from damage and oxidative stress ( although, this still needs to be proven in human studies). Ashwagandha was also traditionally used for improving general memory, attention, & task performance.
Helps maintain heart health- Studies suggest that Ashwagandha can improve VO2 max levels, which is the maximum amount of oxygen taken in while engaging in physical exertion. As Ashwagandha has been found to reduce stress and its symptoms like higher blood pressure and heart rate, it helps maintain overall heart health. It is also capable of preventing heart attacks, strengthening heart muscles, & improving its endurance.
FAQ's
The benefits of KSM-66 Ashwagandha are backed by 24 human clinical studies. It can help support healthy stress levels and provide other benefits such as improved sleep quality, improved mood, and better resistance to illness.
What time of the day is best to consume this?
This can be consumed either in the morning or in the evening after your meals.
What is the appropriate age to consume this?
Individuals 18 years old and above can consume it.