Coenzyme Q10
Regular price
Rs. 1,299.00
Sale price
Rs. 879.00
32%
( 32% )
You save:
Rs. 420.00
( 32% )
Unit price
per
Sale
Sold out
Regular price
Rs. 1,299.00
Sale price
Rs. 879.00
32%
( 32% )
You save:
Rs. 420.00
( 32% )
Unit price
per
Sale
Sold out
Offers Available
FLAT 5% OFF
ON FIRST ORDER
copy
Get Additional 5% Off
on prepaid Payments
copy
INSTRUCTION OF SUPPLEMENT
Store in a cool & dry place.
Take one soft gel every day with water after your meal.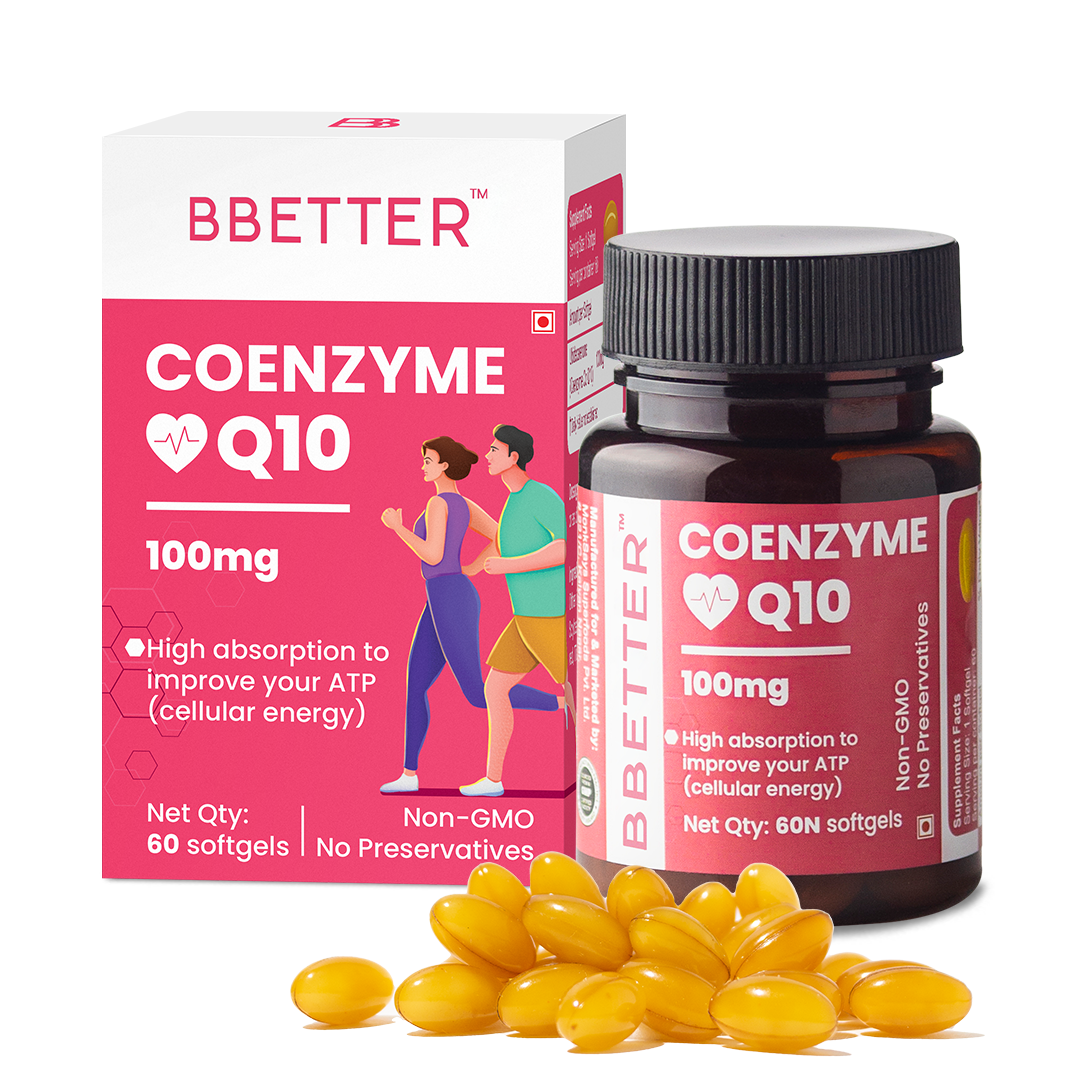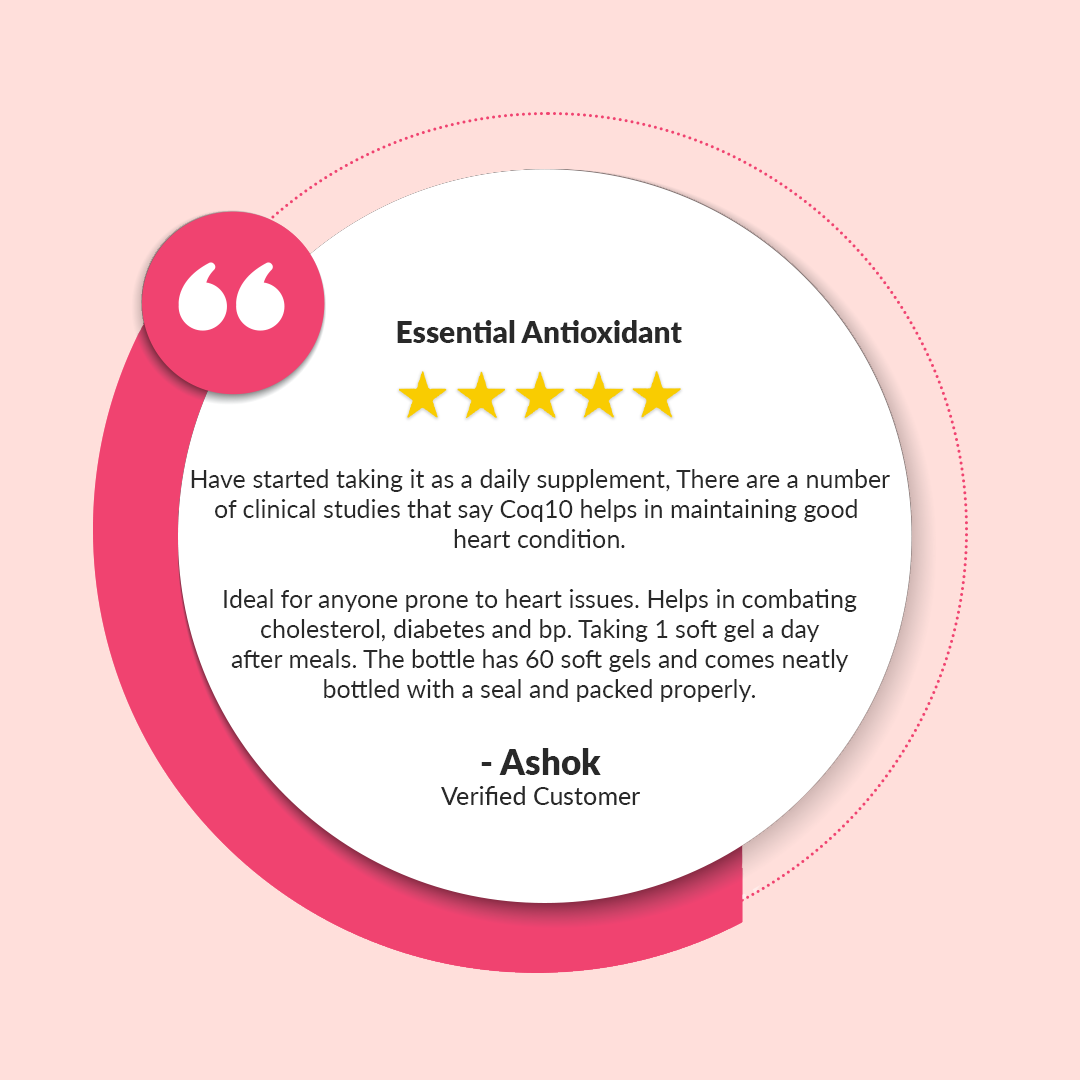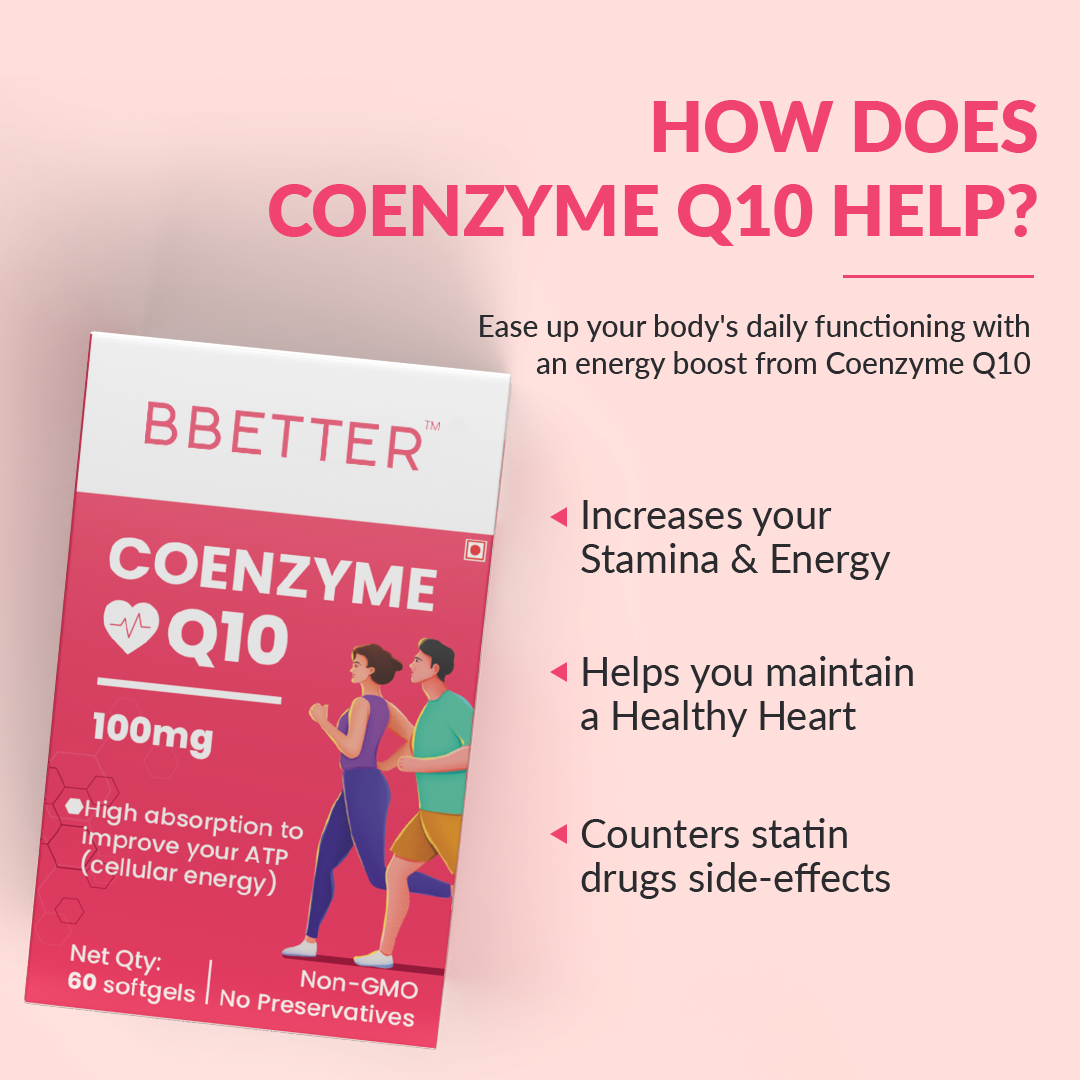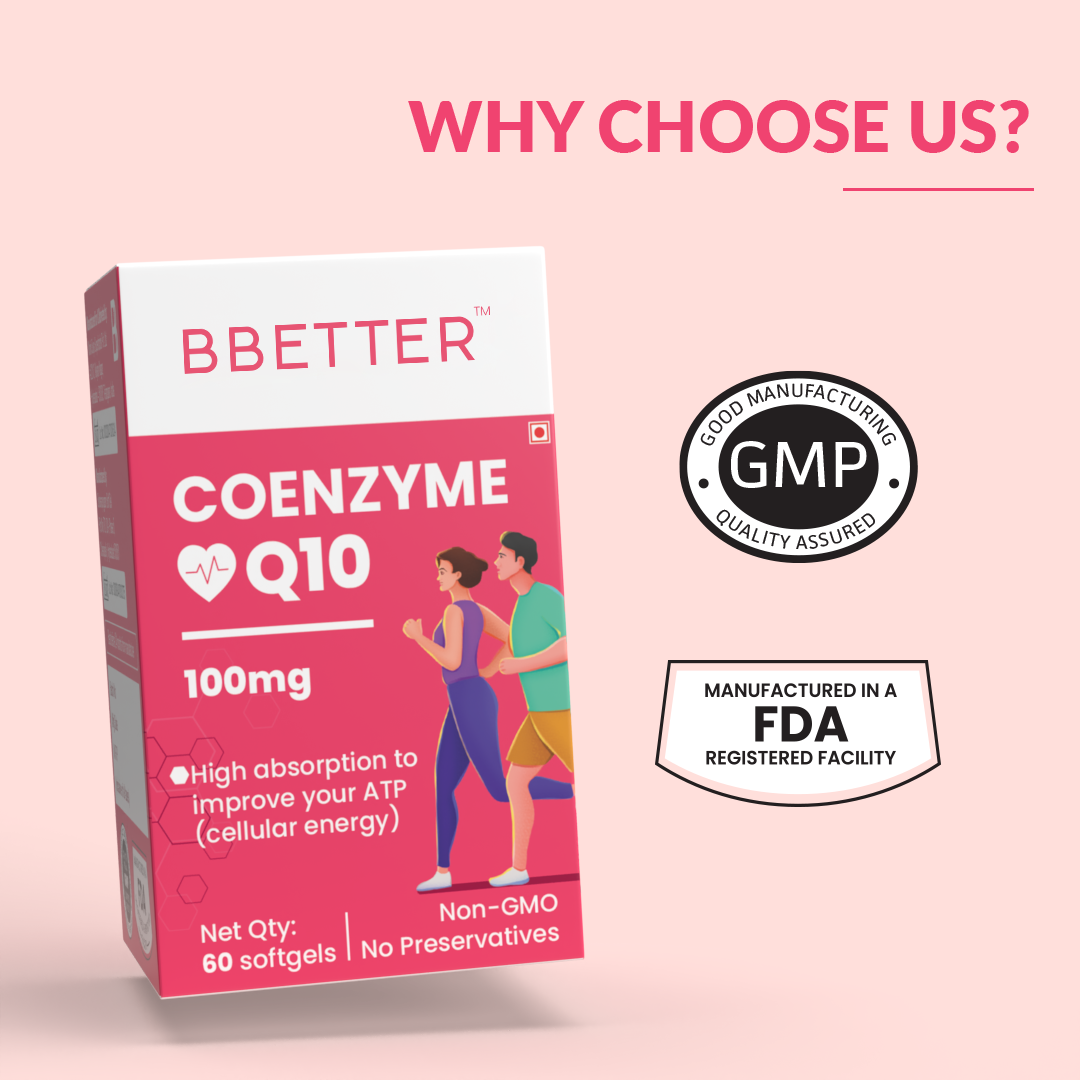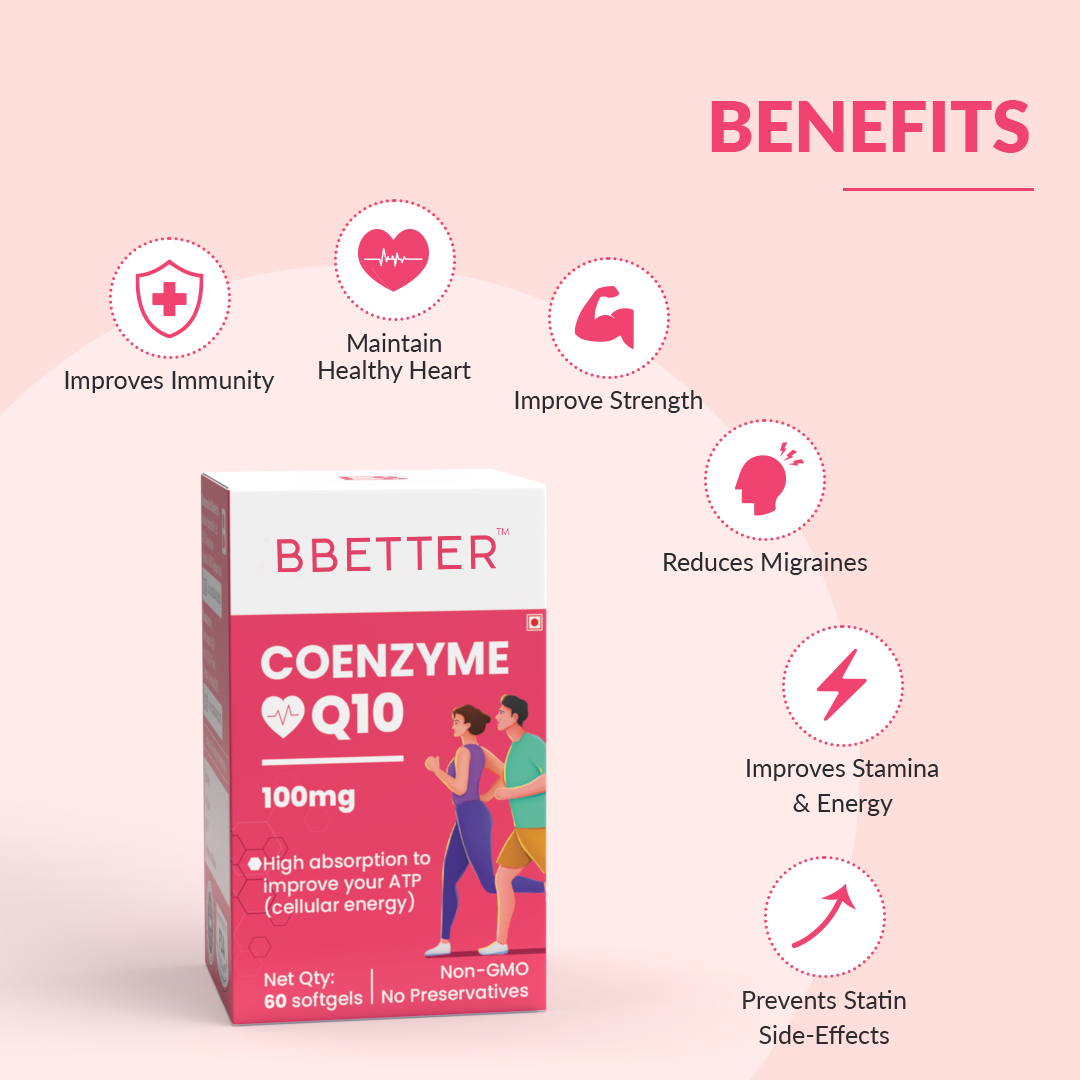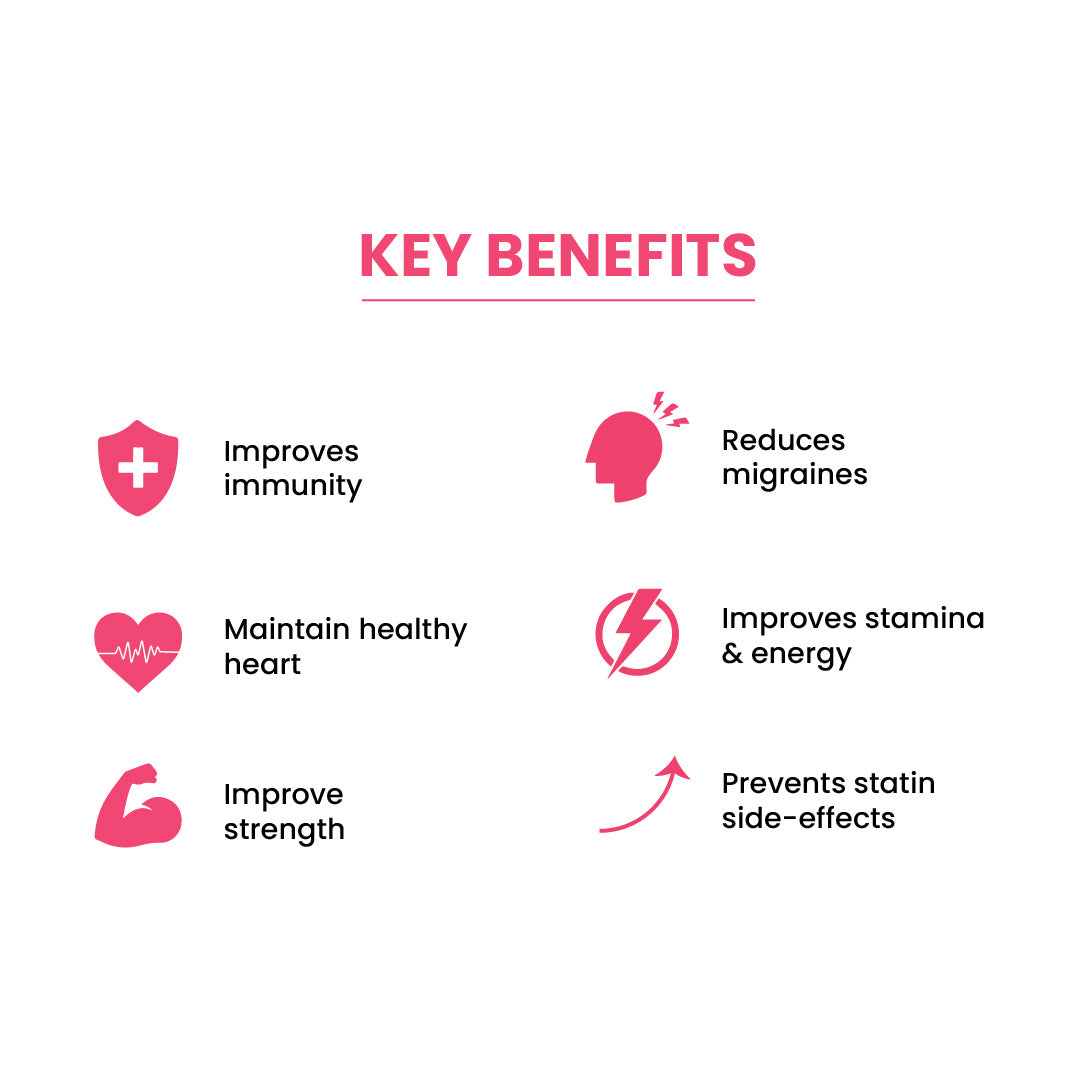 About Coenzyme Q10
BBETTER Coenzyme Q10 is designed to boost ATP production in your body. As complicated as it sounds, it only makes your daily functioning easier by giving you the much-needed energy. ATP (adenosine triphosphate) is the energy powerhouse of human body cells. As you age the capacity of producing ATP declines and hence results in fatigue and muscular weakness. BBETTER Coenzyme Q10 is your solution to invite more energy into your body.
Coenzyme Q10 Key Benefits
Improves your heart health.
Regulates blood sugar levels.
Over 4500 Indian Athletes Trust BBETTER
Our Indian athletes use BBETTER supplements regularly and also won medals for India in International Championships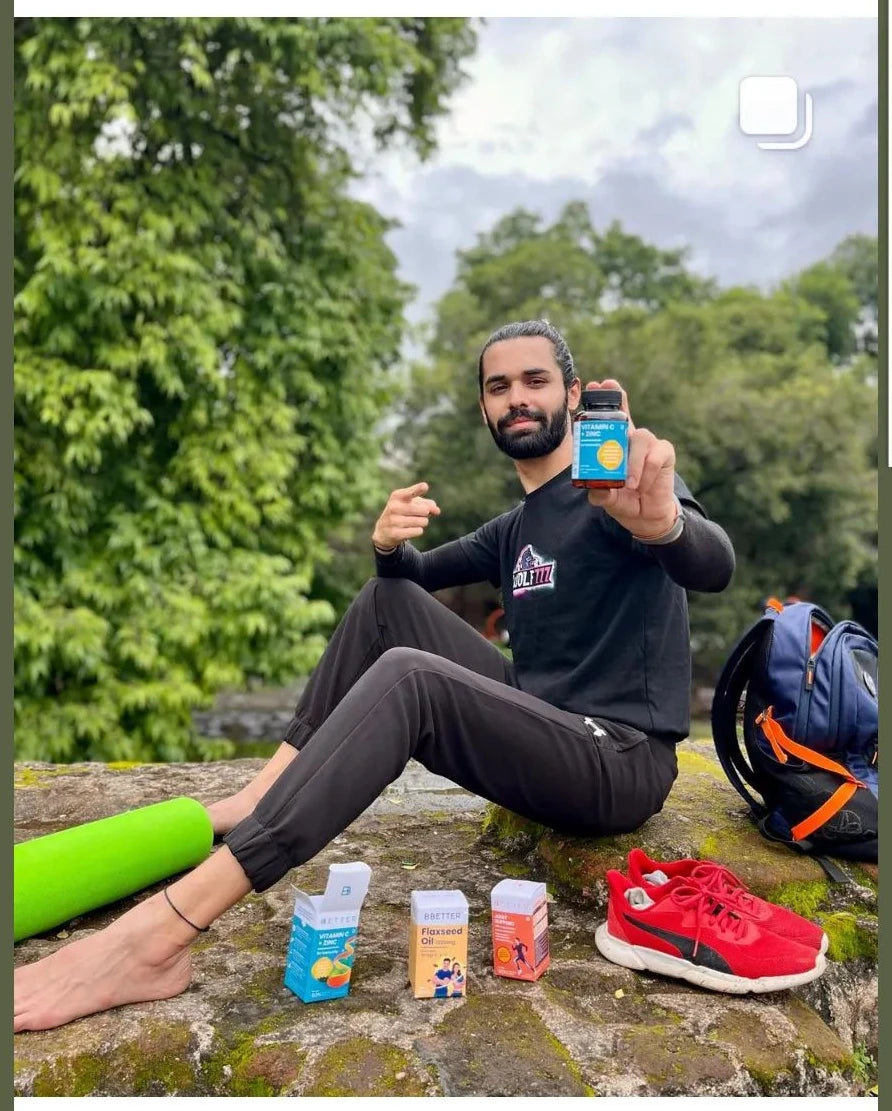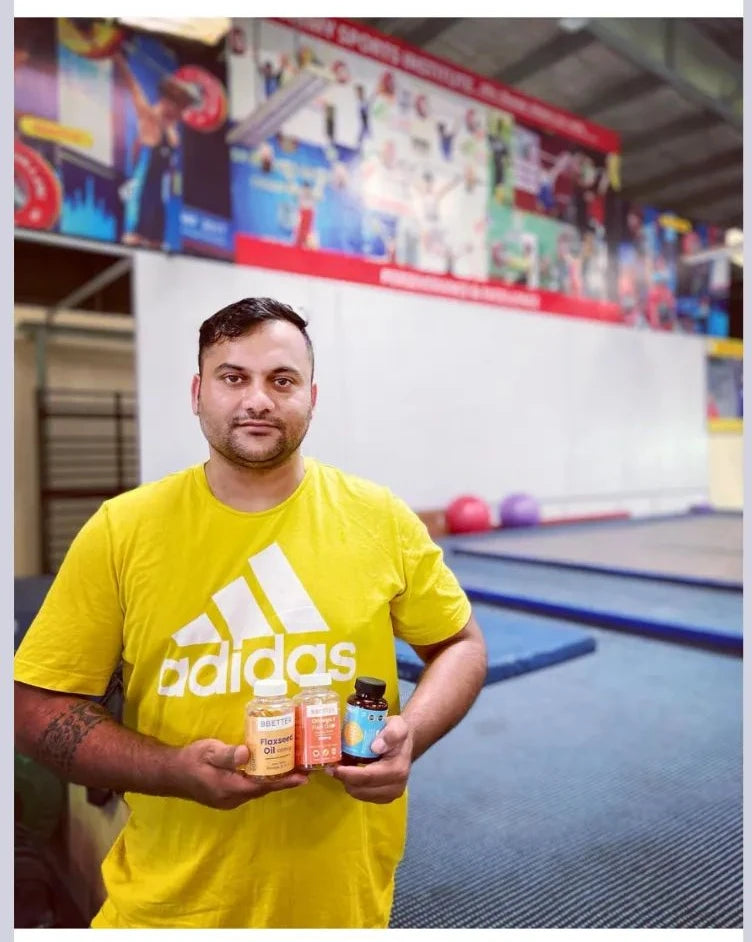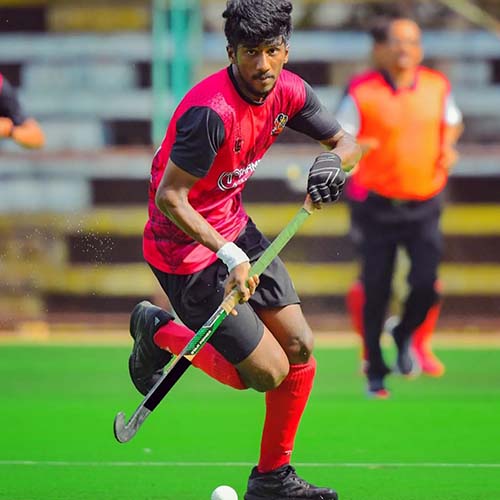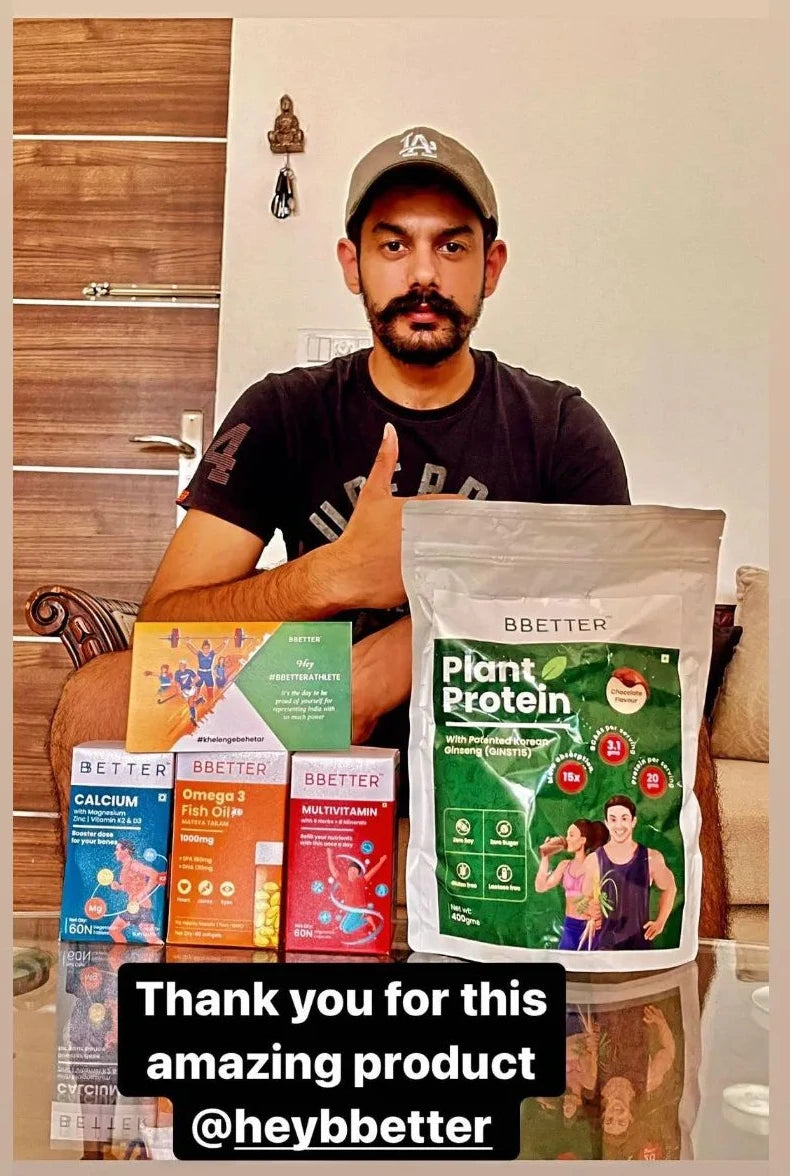 How Coenzyme Q10 works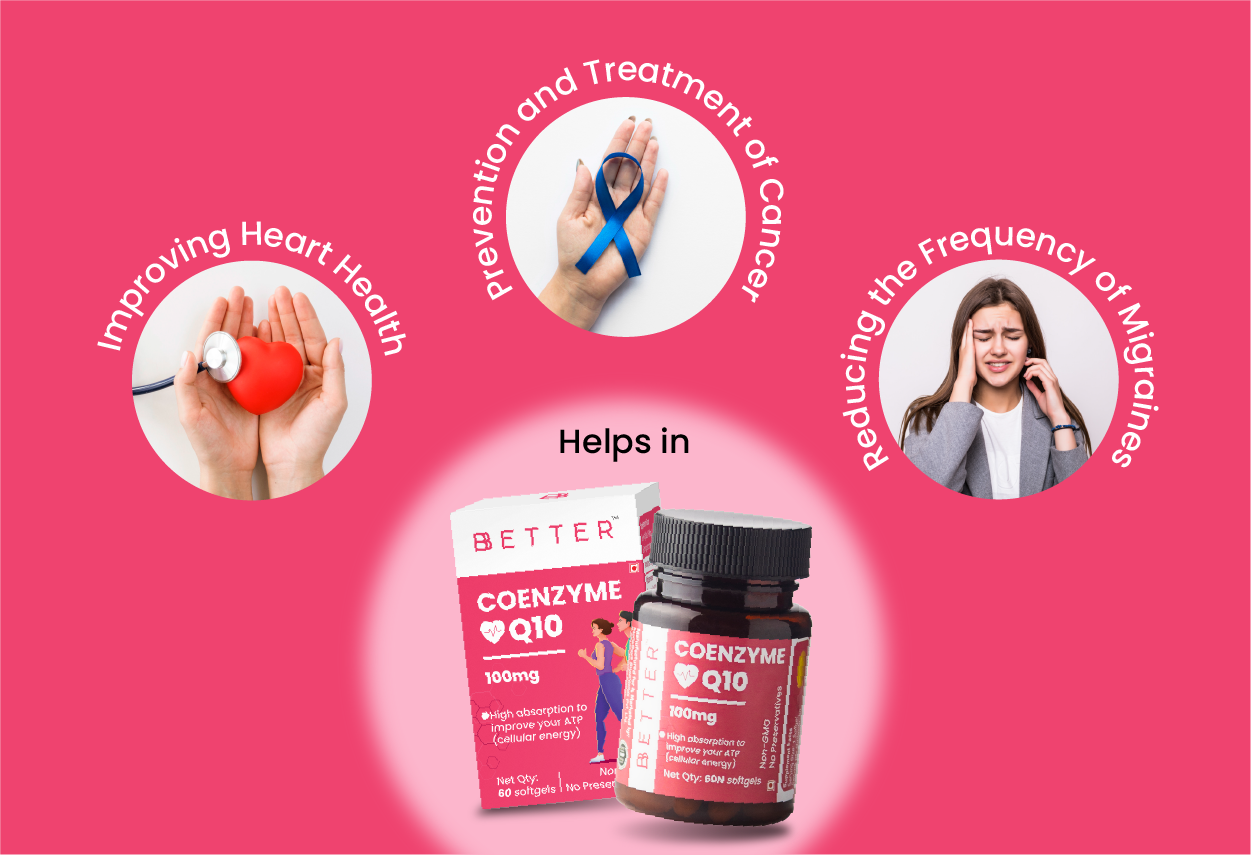 CoQ10 helps improve heart health and blood sugar regulation.
It might also assist in the prevention and treatment of cancer and reduce the frequency of migraines.
How to Consume Coenzyme Q10
Take one soft gel every day with water after your meal.
Benefits of Coenzyme Q10
Helps prevent heart failure- CoQ10 helps improve heart function by increasing ATP production & limiting oxidative damage. CoQ10 was found to help with restoring optimal levels of energy production, and negative of which can help in the treatment of heart failure.
Helps reduce headache- If your mitochondrial function is abnormal, it leads to increased uptake of calcium by the cells, excessive production of harmful free radicals & decreased antioxidant protection. This further leads to low energy in brain cells and eventually migraines. As one of the most important functions of CoQ10 is to improve mitochondrial function, it can help reduce headaches by preventing this whole process from taking place. It also helps reduce inflammation, which is highly beneficial in this case.
Helps improve exercise performance- Oxidative stress & abnormal mitochondrial functions can affect muscle function, muscular energy, and hence exercise performance. Improved mitochondrial function is also helpful in better energy.
Helps with Diabetes- Oxidative stress often leads to cellular damage. Cellular damage can trigger the onset of metabolic diseases like diabetes. Insulin resistance has also been linked to abnormal mitochondrial function. CoQ10 helps improve insulin sensitivity & blood sugar levels.
Helps maintain brain health- Mitochondria are considered to be the energy generators of the brain cells. As you age mitochondrial function becomes weaker which can lead to diseases like Alzheimer's & Parkinson's disease helps improve mitochondrial function and prevents your brain from such diseases.
Helps maintain lung health- As oxidative damage increases, antioxidant protection decreases and can lead to diseases like asthma, & chronic obstructive pulmonary disease. As CoQ10 helps reduce oxidative damage and inflammation, it is a great supplement to prevent lung diseases in some ways.
FAQ's
Are there any side effects?
There are some side effects to consuming coenzyme Q10 like diarrhea, loss of appetite, nausea, etc. It is advised to consult your physician before consuming.
What age is appropriate to consume?
Individuals 18 years old and above can consume it.