Chyawanprash
Regular price
Rs. 1,199.00
Sale price
Rs. 499.00
58%
( 58% )
You save:
Rs. 700.00
( 58% )
Unit price
per
Sale
Sold out
Regular price
Rs. 1,199.00
Sale price
Rs. 499.00
58%
( 58% )
You save:
Rs. 700.00
( 58% )
Unit price
per
Sale
Sold out
Offers Available
FLAT 5% OFF
ON FIRST ORDER
copy
Get Additional 5% Off
on prepaid Payments
copy
INSTRUCTION OF SUPPLEMENT
Making Immunity & Strength easy for the daily.
Store in a cool & dry place.
Consume 1-2 spoons of chyawanprash. Best to be consumed before breakfast.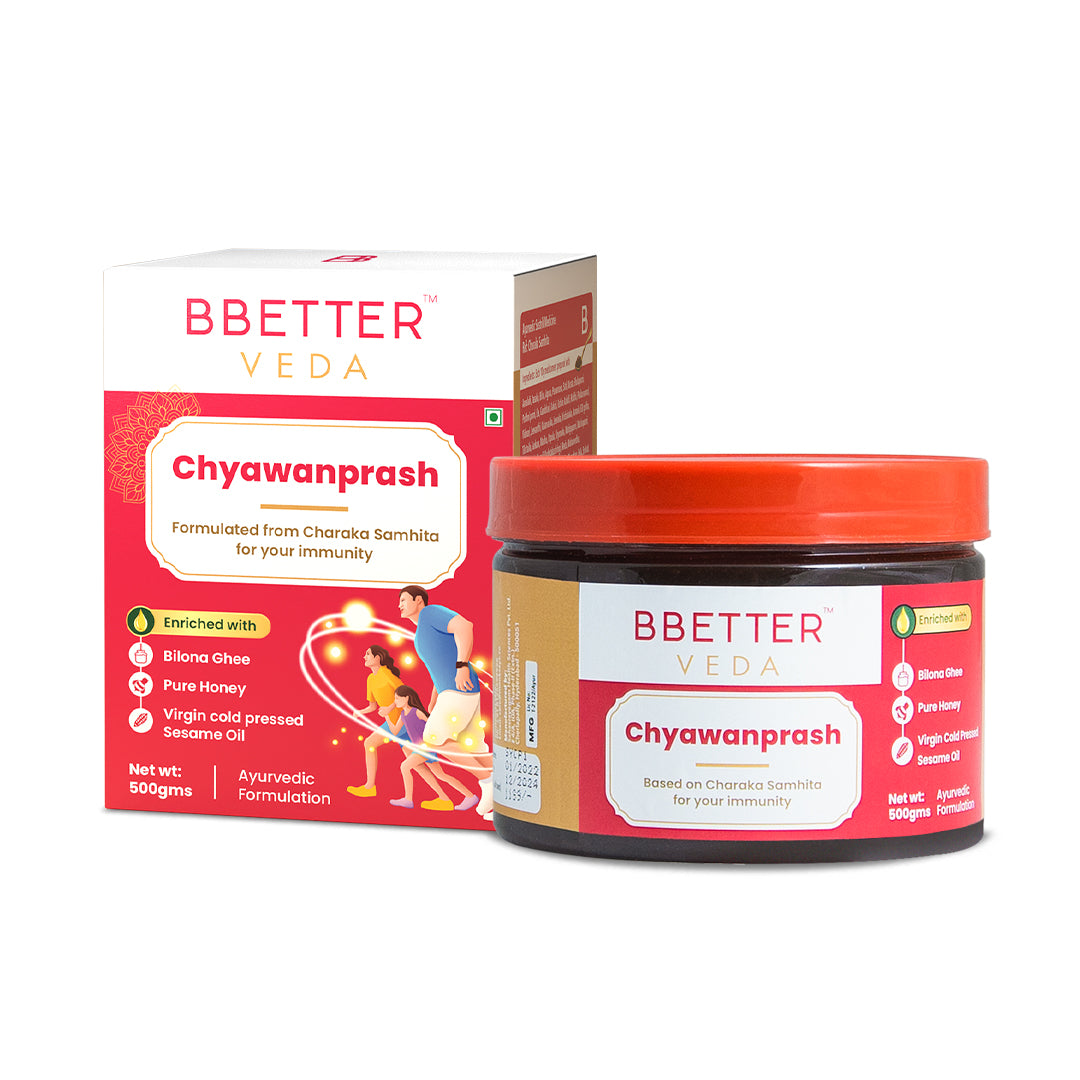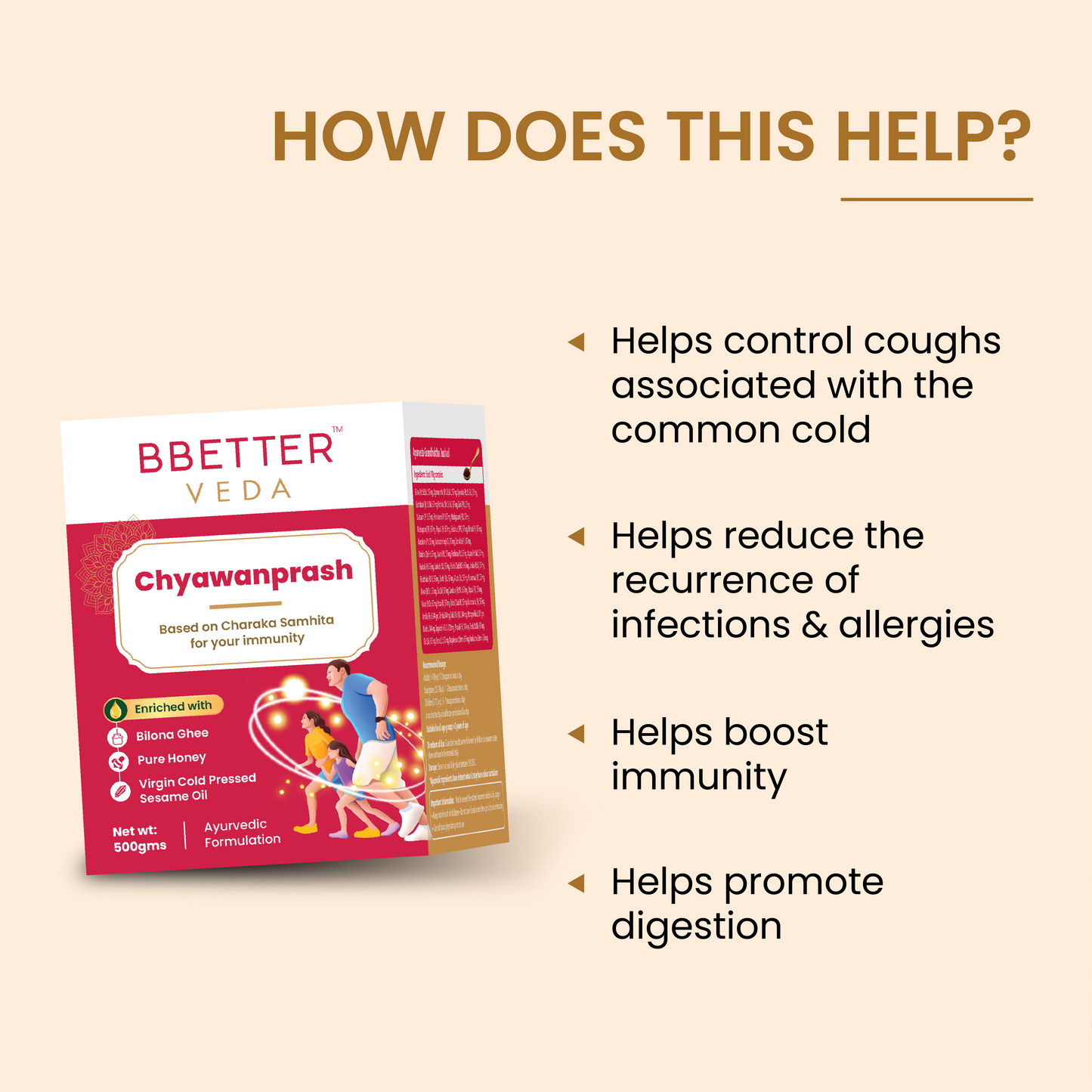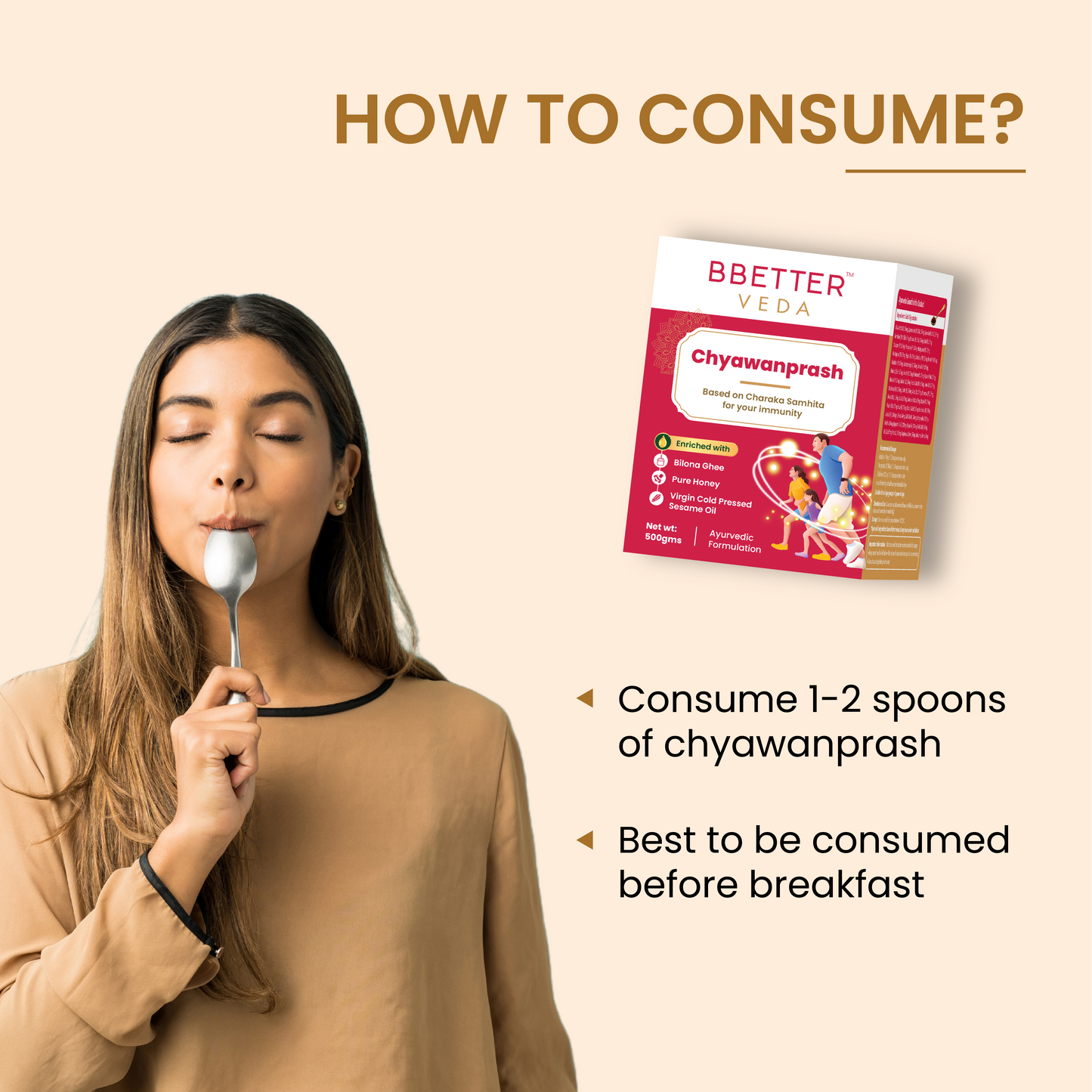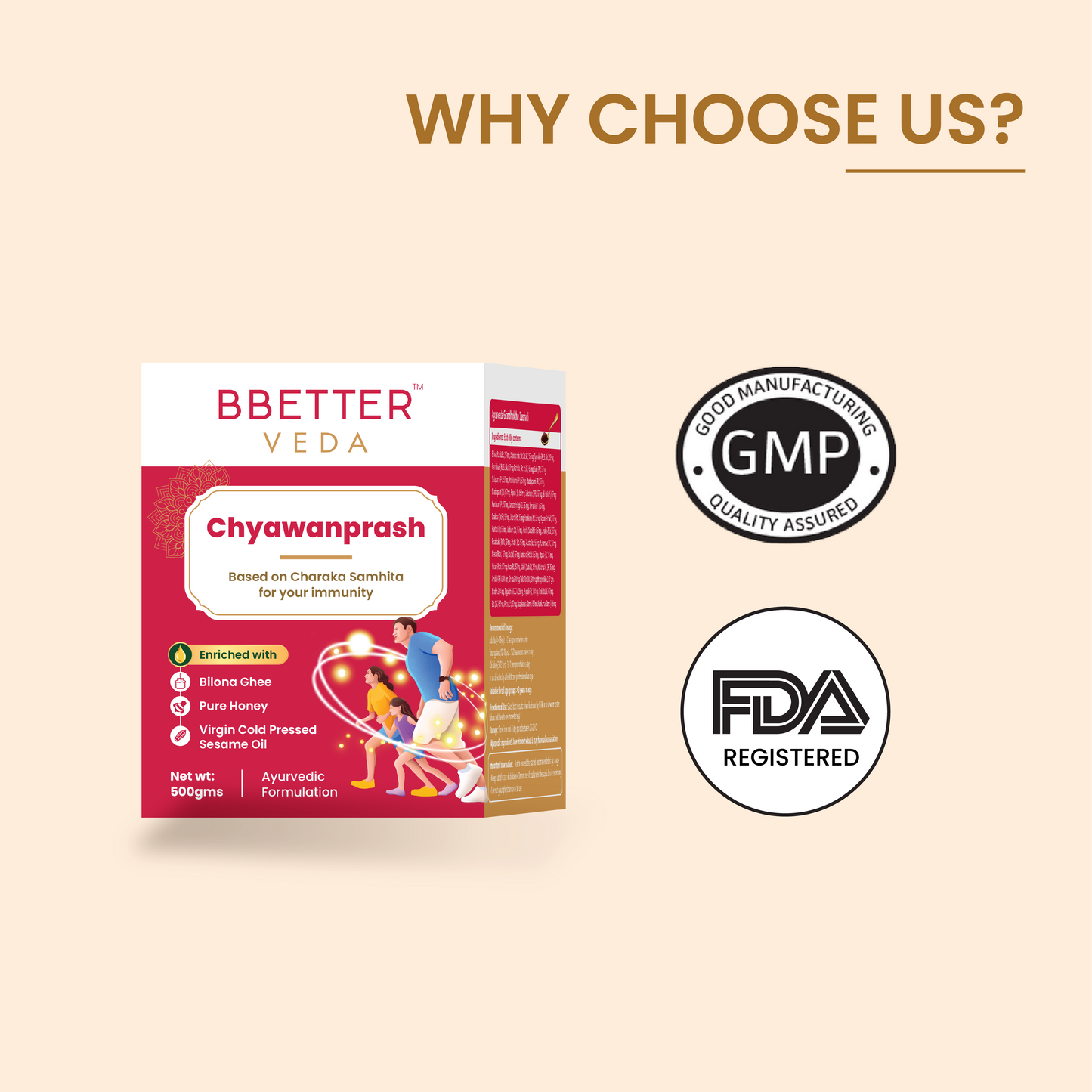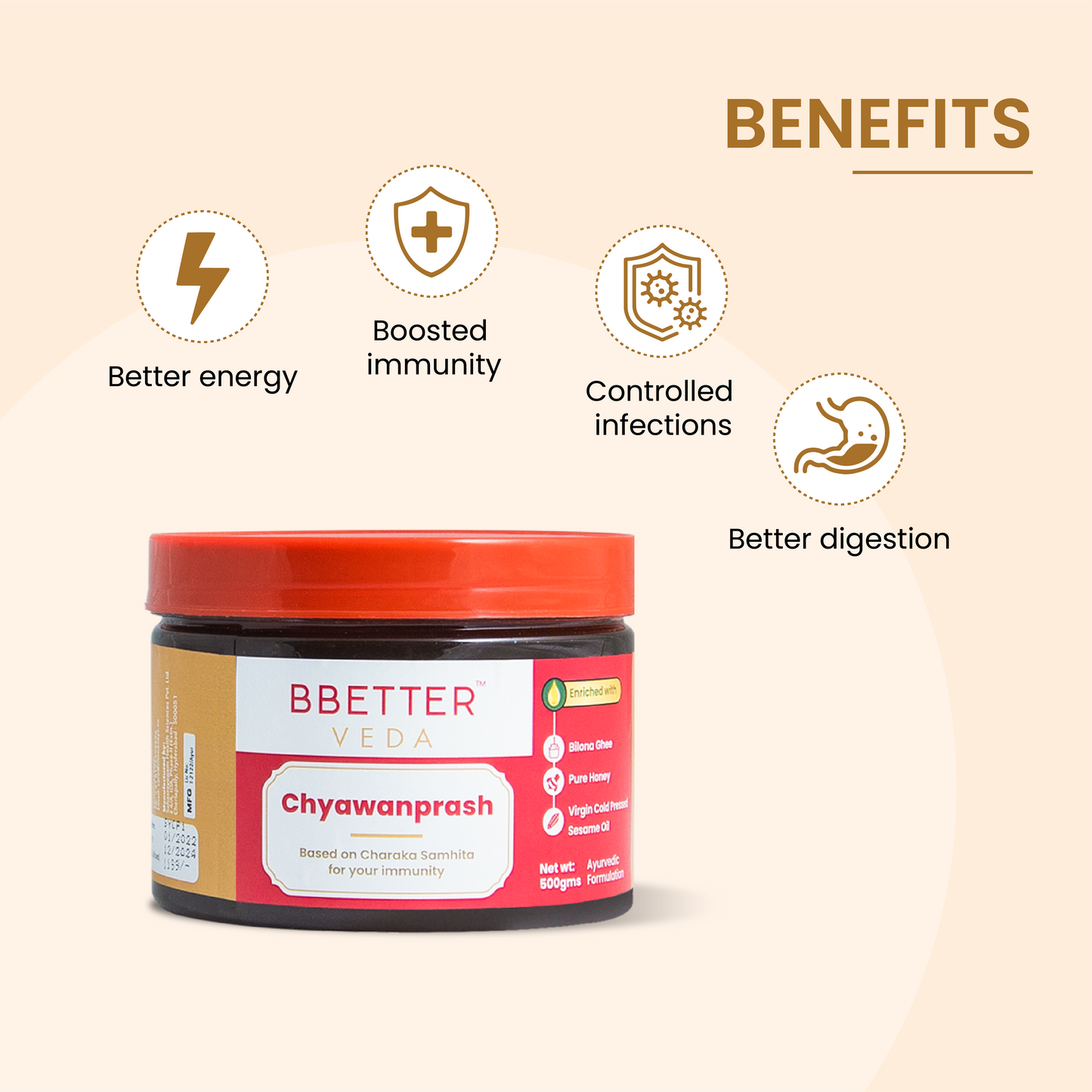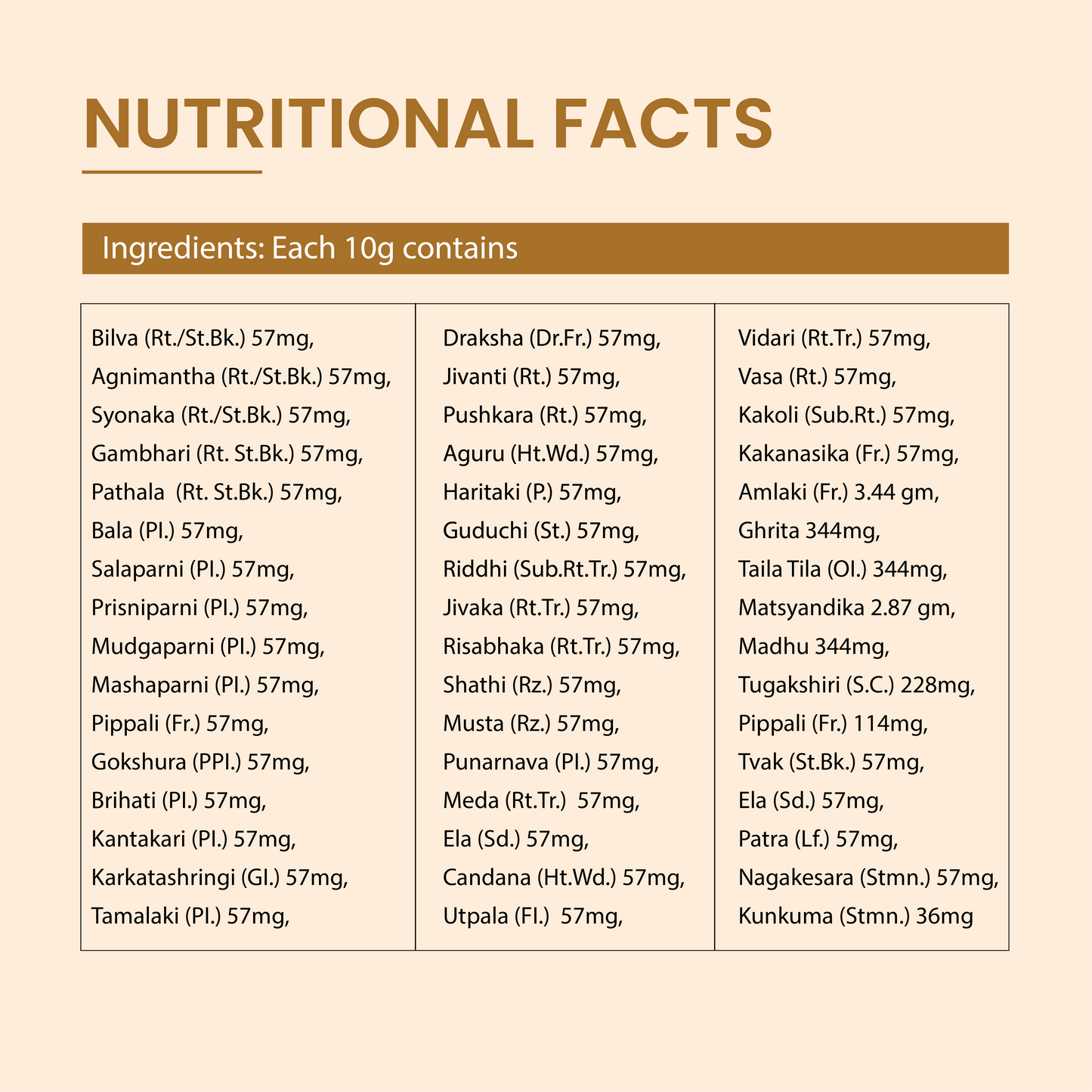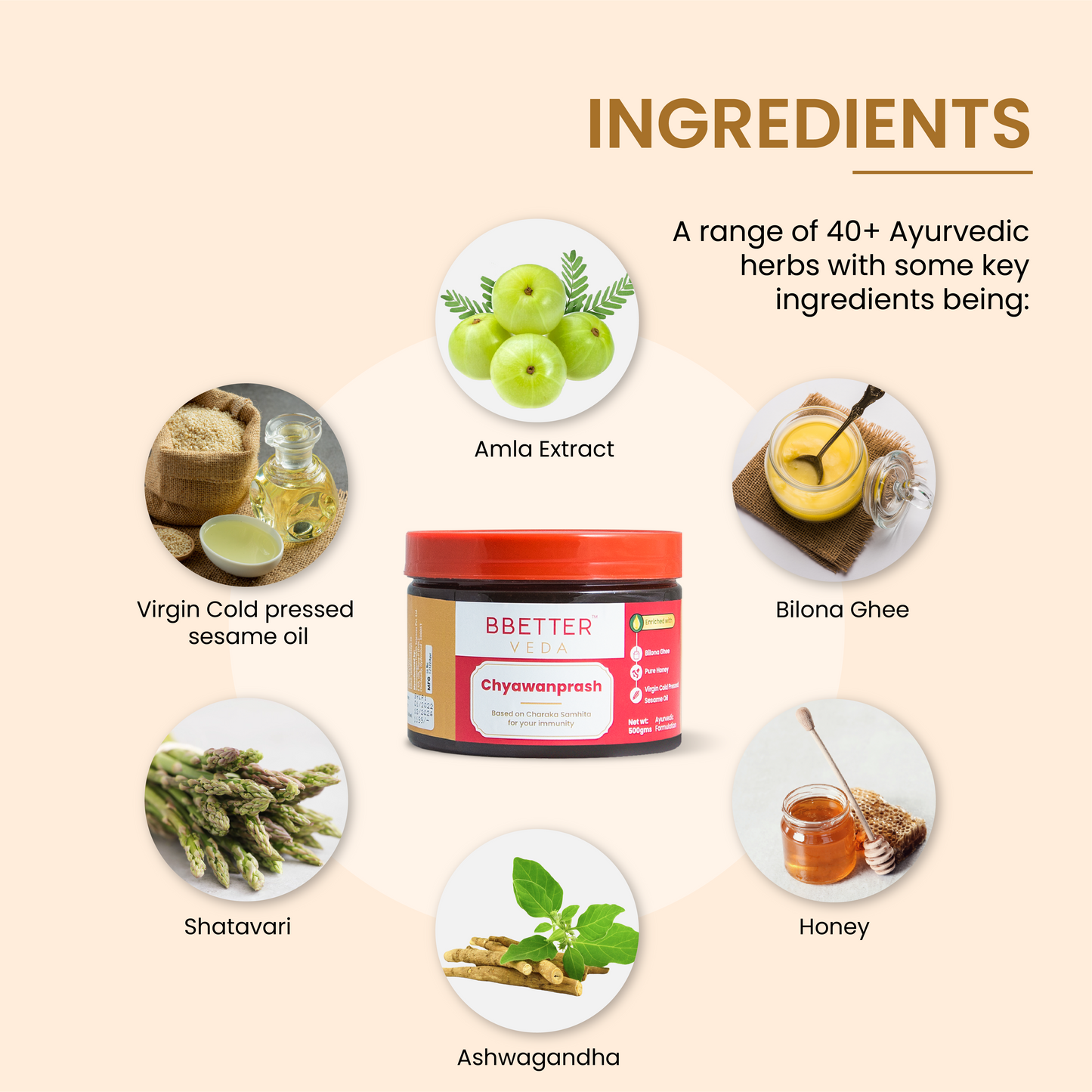 About Chyawanprash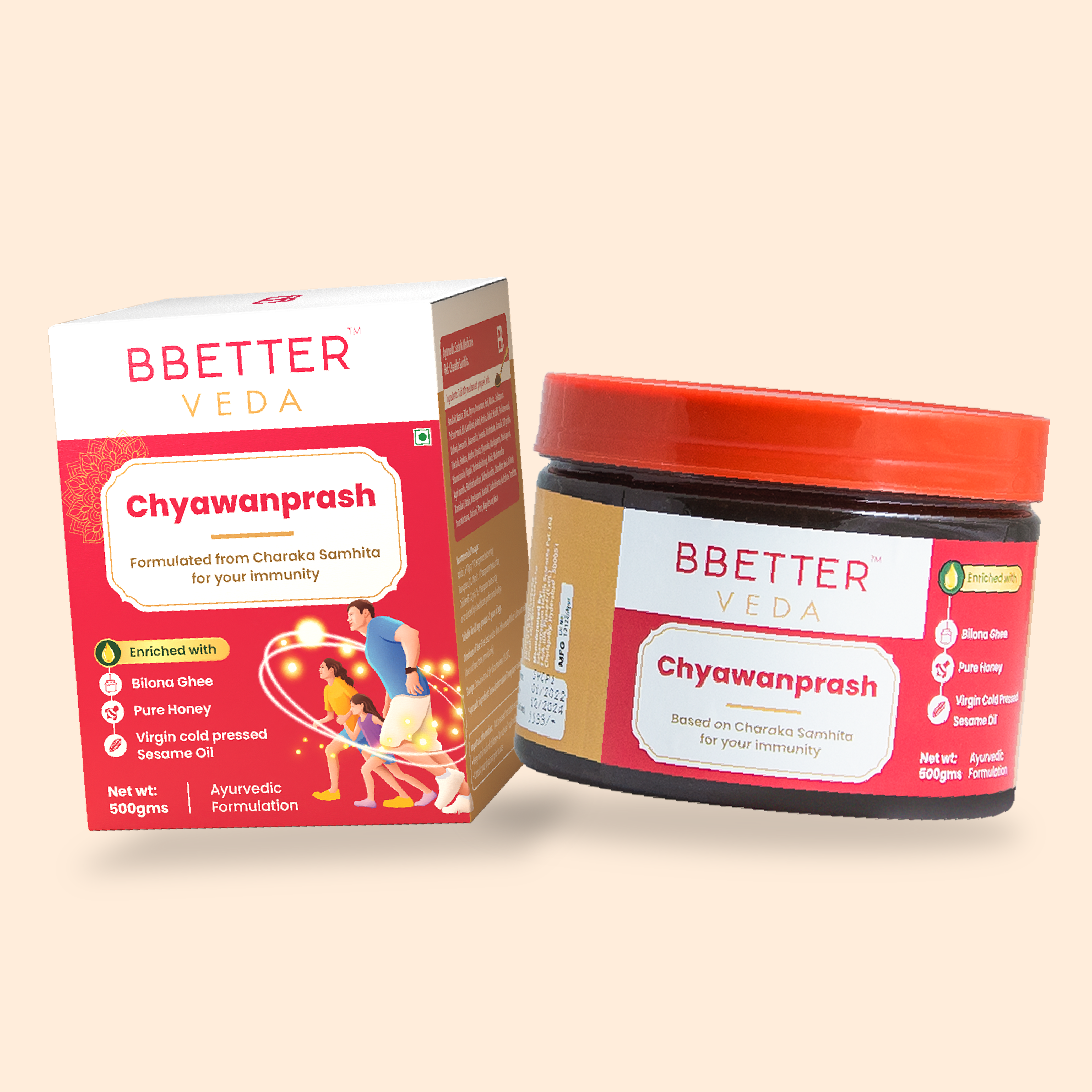 BBETTER Chyawanprash is a wholesome blend of goodness for multiple benefits. We were serious when we said BBETTER only makes supplements that you can safely share with your friends & family. BBETTER Chyawanprash is designed to become the healthiest & most loved family ritual for the daily. Just two spoons of BBETTER Chyawanprash ensures that each family member heads out of the home with vitality shining from within and is fully fueled to have a power-packed day, every day. BBETTER Chywanprash is here to remind you how beneficial it is and why it has been a part of the Indian tradition for the longest. Now more than ever, it's time to value its goodness and reap the benefits.
Chyawanprash Key Benefits
Helps control coughs associated with the common cold.
Helps reduce the recurrence of infections & allergies.
Over 4500 Indian Athletes Trust BBETTER
Our Indian athletes use BBETTER supplements regularly and also won medals for India in International Championships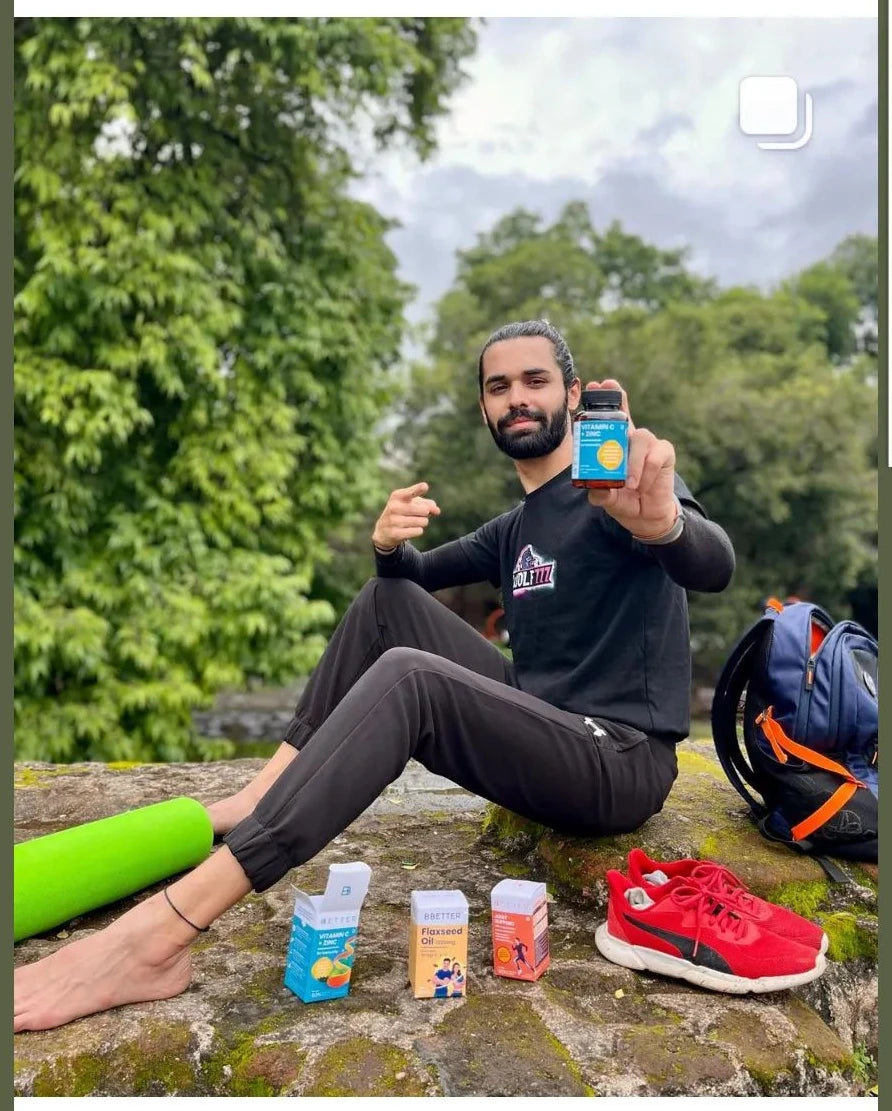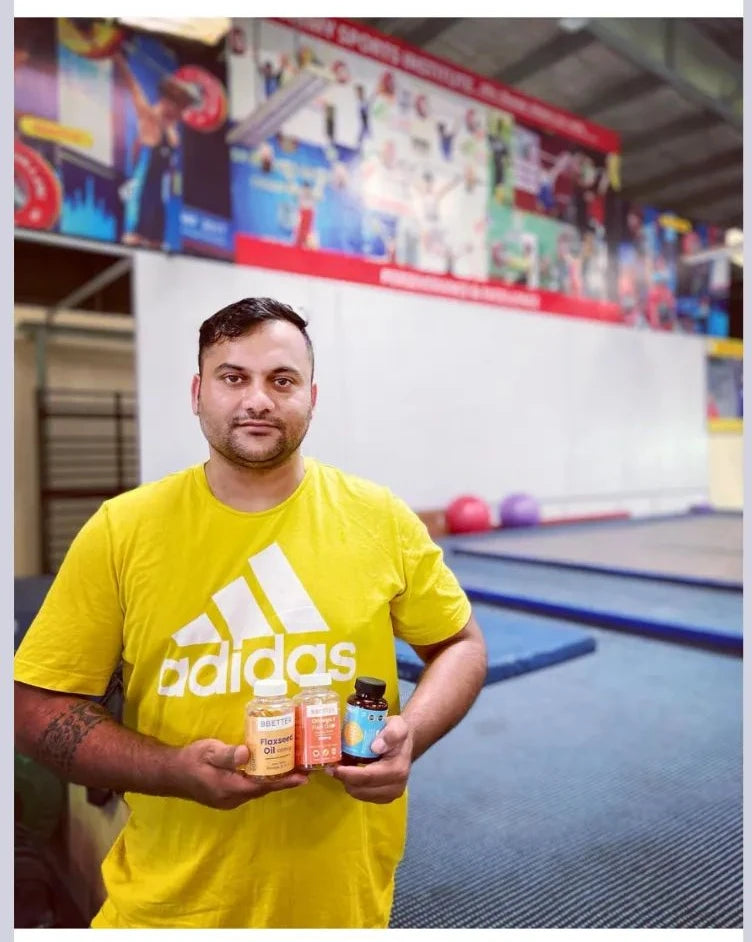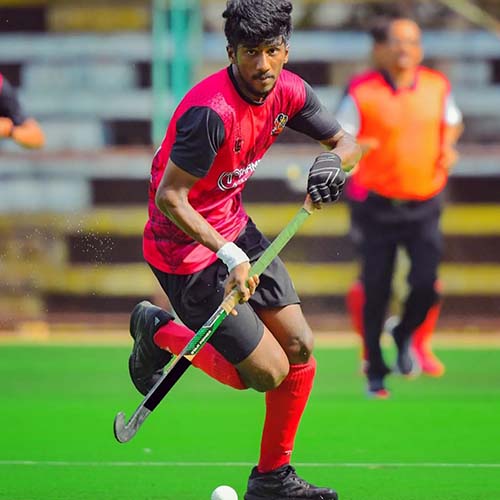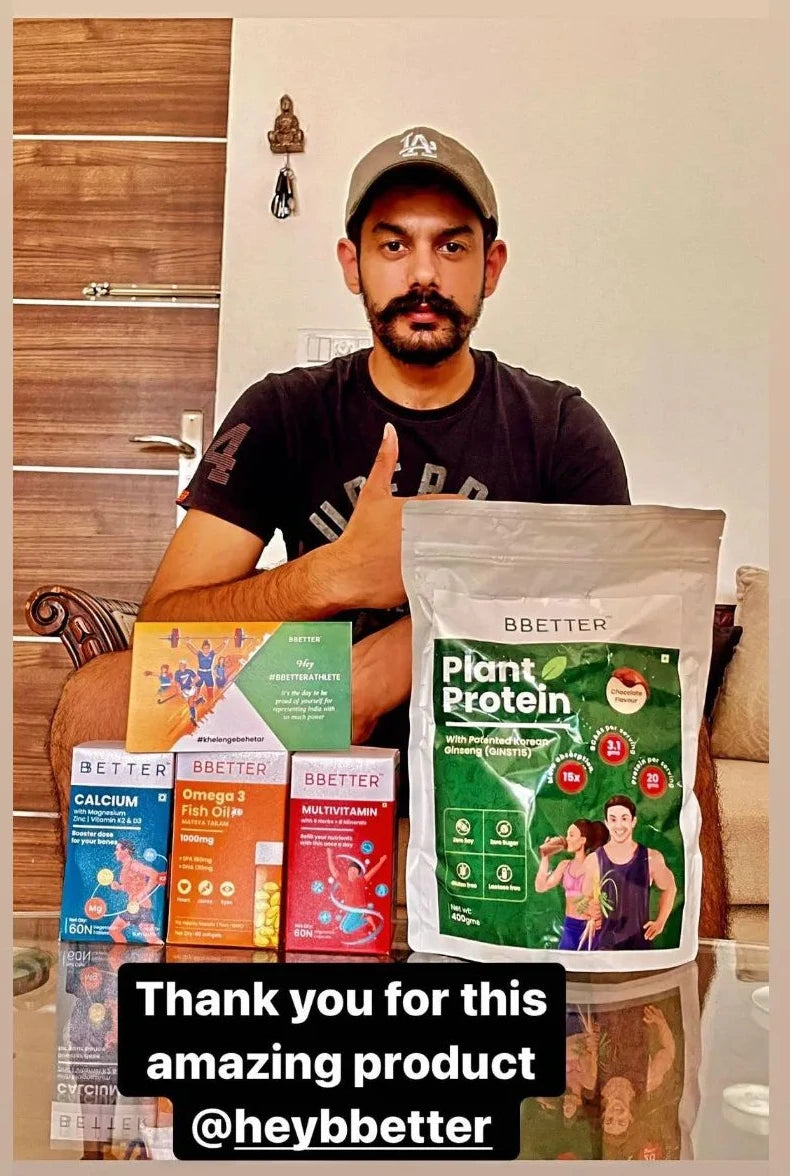 How Chyawanprash works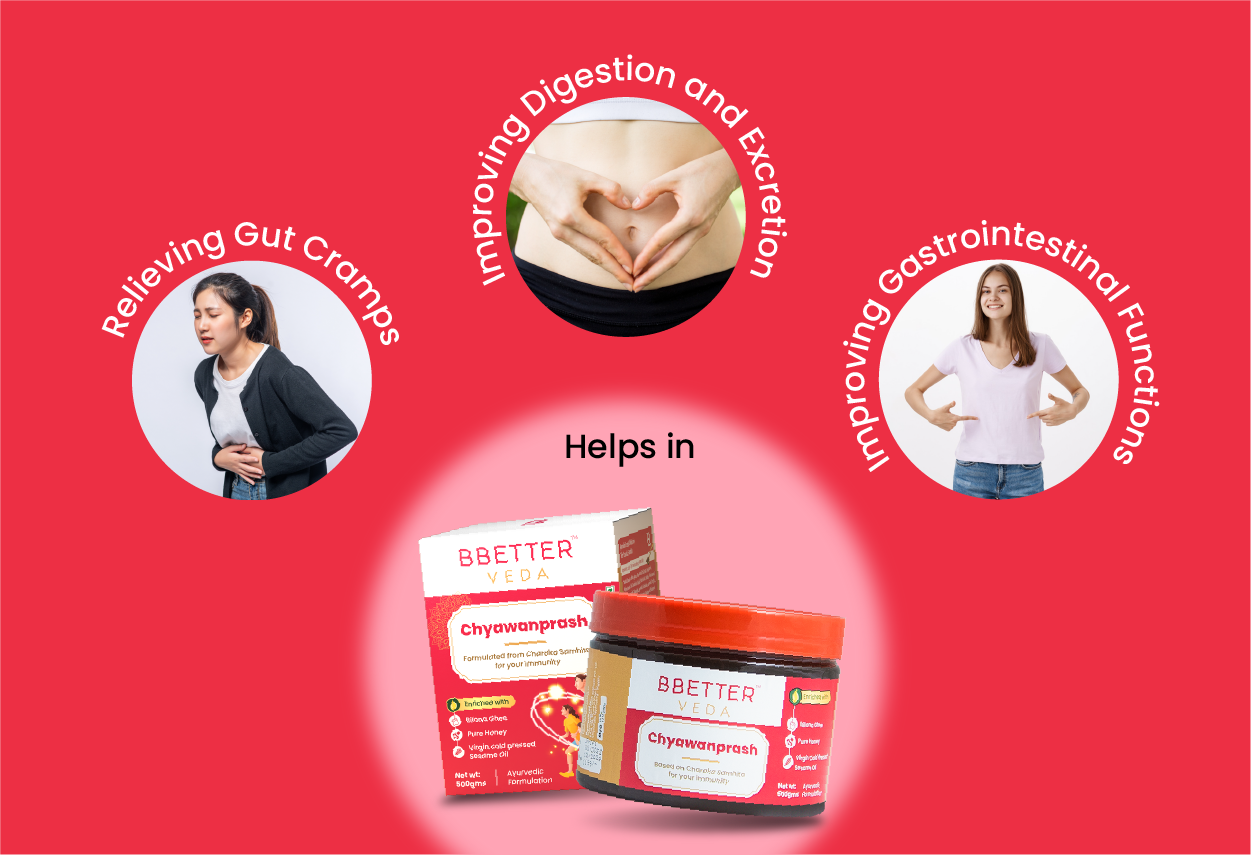 Chyawanprash is rich in vitamin C and acts as an immune stimulator.
Chyawanprash helps to eliminate the accumulated excreta by improving digestion and excretion.
Chyawanprash has also been found to relieve gut cramps, and help improve gastrointestinal functions.
How to Consume Chyawanprash
Consume 1-2 spoons of chyawanprash.
Best to be consumed before breakfast.
Benefits of Chyawanprash
Helps improve immunity- Chyawanprash has been used for ages in Indian tradition for every age group, from kids to older people. It helps boost your body's power to fight disease-causing bacteria. Chyawanprash is rich in antioxidants that help strengthen your body. Chyawanprash is formulated with rich spices that are highly antioxidant and is considered to be a legitimate Ayurvedic formula that can boost immunity against any kind of harmful bacteria and viruses.
Helps improve physical strength- Chyawanprash is a great way to boost one's physical strength as it is power-packed with the most traditional nutrients in one spoonful. It is known to not only boost muscular strength over time but also strengthen the heart muscles, and relax the cardiac system by calming the mind.
Help Detoxing your body- Chyawanprash is formulated with about 30-40 ingredients, out of which various naturally extracted ingredients are highly antioxidant. Amla, which happens to be one of the key ingredients in Chyawanprash, helps detoxify the body by cleansing the liver, blood & lungs. The purification of blood over time helps prevent your body from catching minor infections.
Helps boost energy- Chyawanprash has been found to rejuvenate energy cells. As Chyawanprash is enriched with several nutrients it gives you the much-needed boost as you have it in the morning before heading out for the rest of the day.
Supports the heart & respiratory system- Chyawanprash has been found to help lower levels that improve heart health. It helps control symptoms of asthma & ease breathlessness. It helps nourish the mucous membrane & keep the respiratory passage clean and clear. It is highly beneficial for lung health.
FAQ's
This is safe to be consumed by kids above 3 years of age as well as adults.
Does it have any side effects?
This supplement being naturally formulated has very few or almost no side effects. Though, kindly consult your doctor if you have any pre-existing conditions.
Chyawanprash is a supplement that can be used daily to boost one's energy and immunity