Dental Flosser
Regular price
Rs. 2,999.00
Regular price
Rs. 5,600.00
Sale price
Rs. 2,999.00
46%
( 46% )
You save:
Rs. 2,601.00
( 46% )
Unit price
per
Sale
Sold out
Regular price
Rs. 2,999.00
Regular price
Rs. 5,600.00
Sale price
Rs. 2,999.00
46%
( 46% )
You save:
Rs. 2,601.00
( 46% )
Unit price
per
Sale
Sold out
Offers Available
FLAT 5% OFF
ON FIRST ORDER
copy
Get Additional 5% Off
on prepaid Payments
copy
INSTRUCTION OF SUPPLEMENT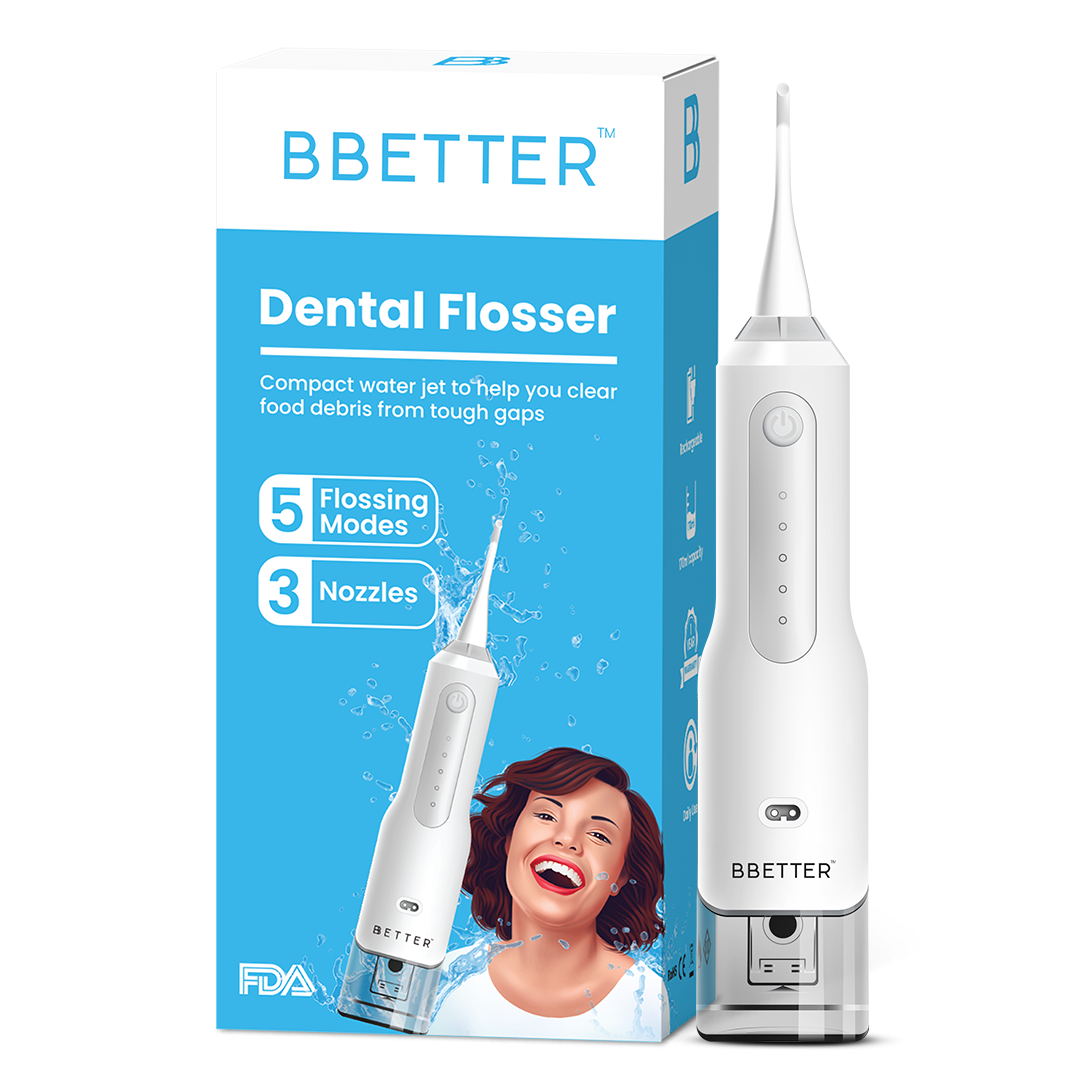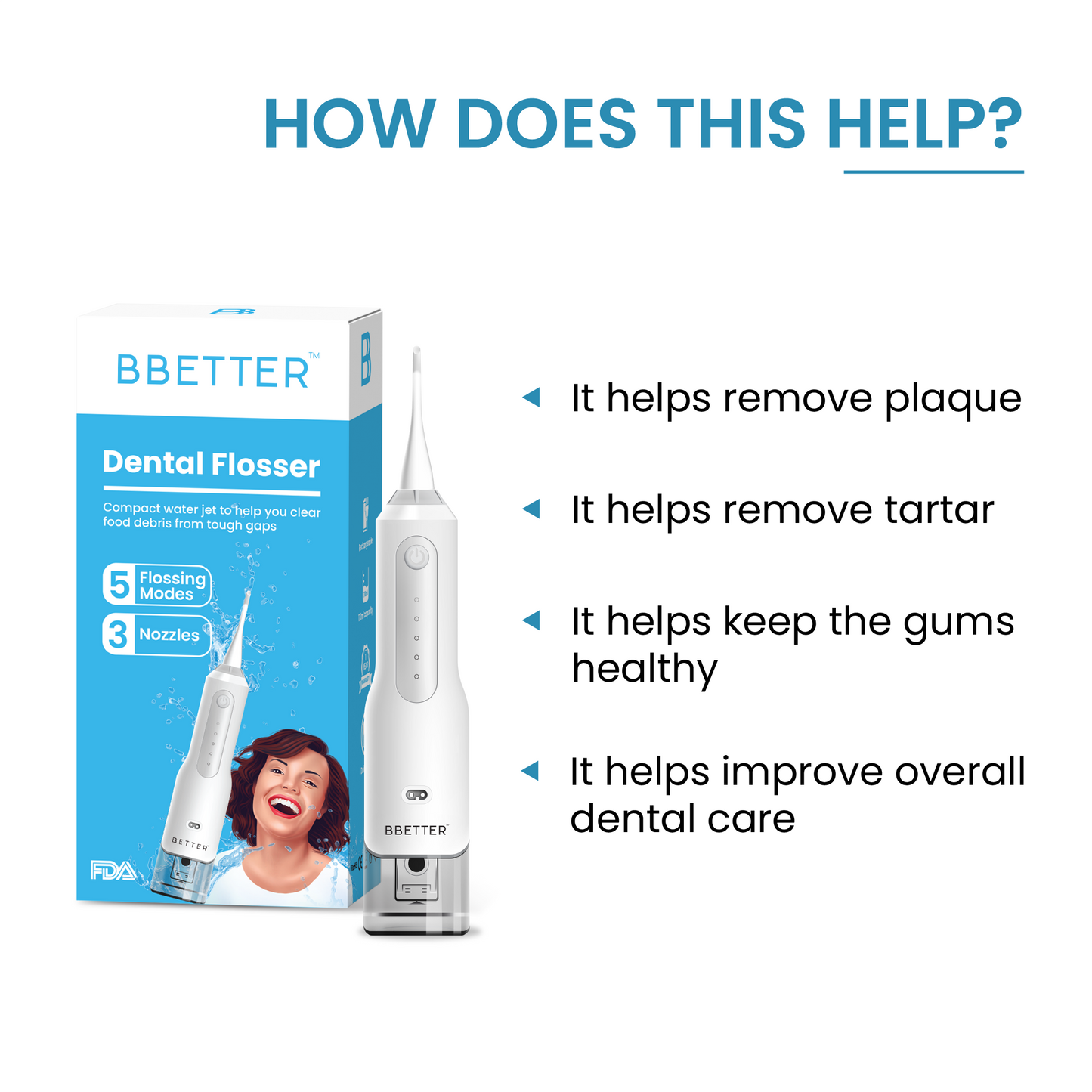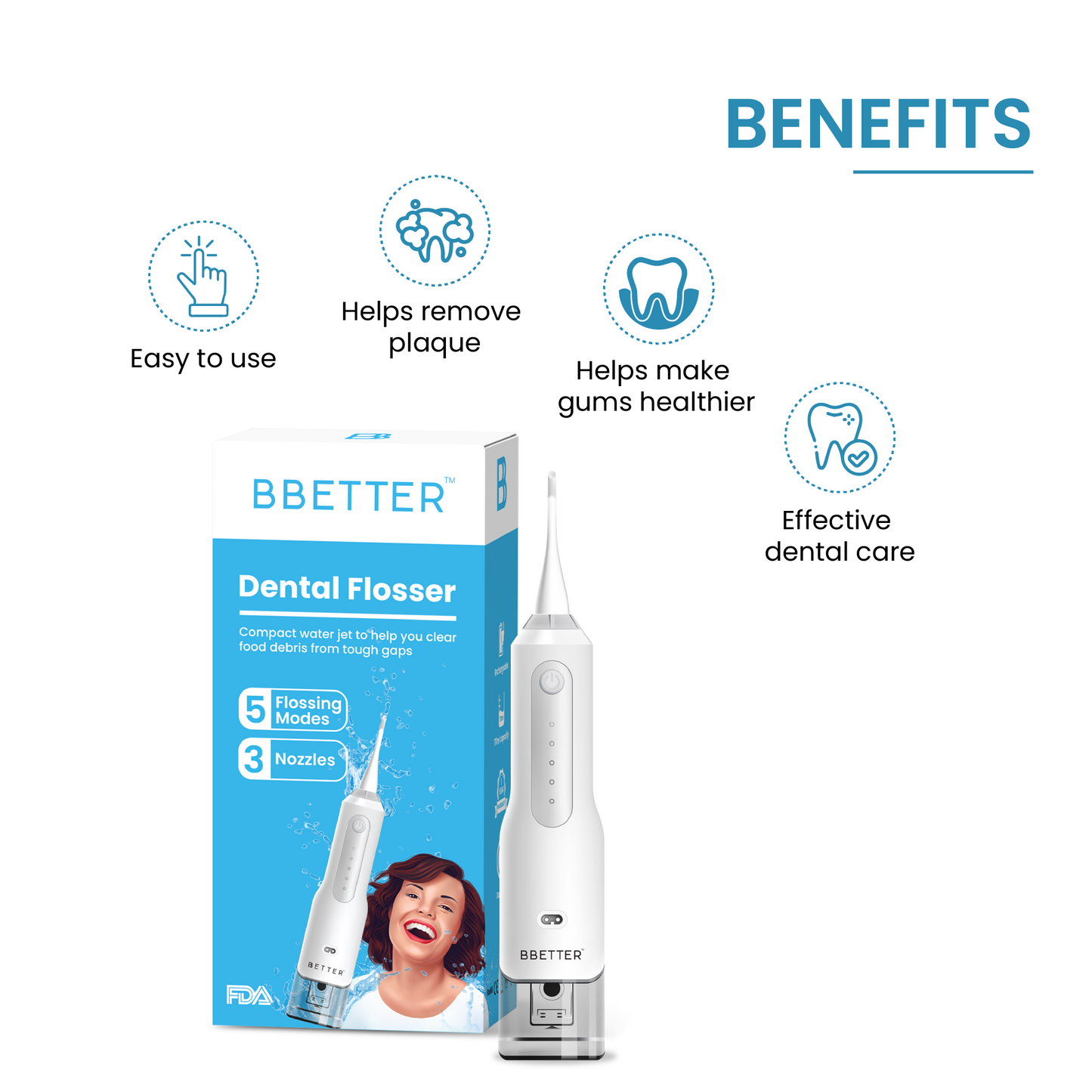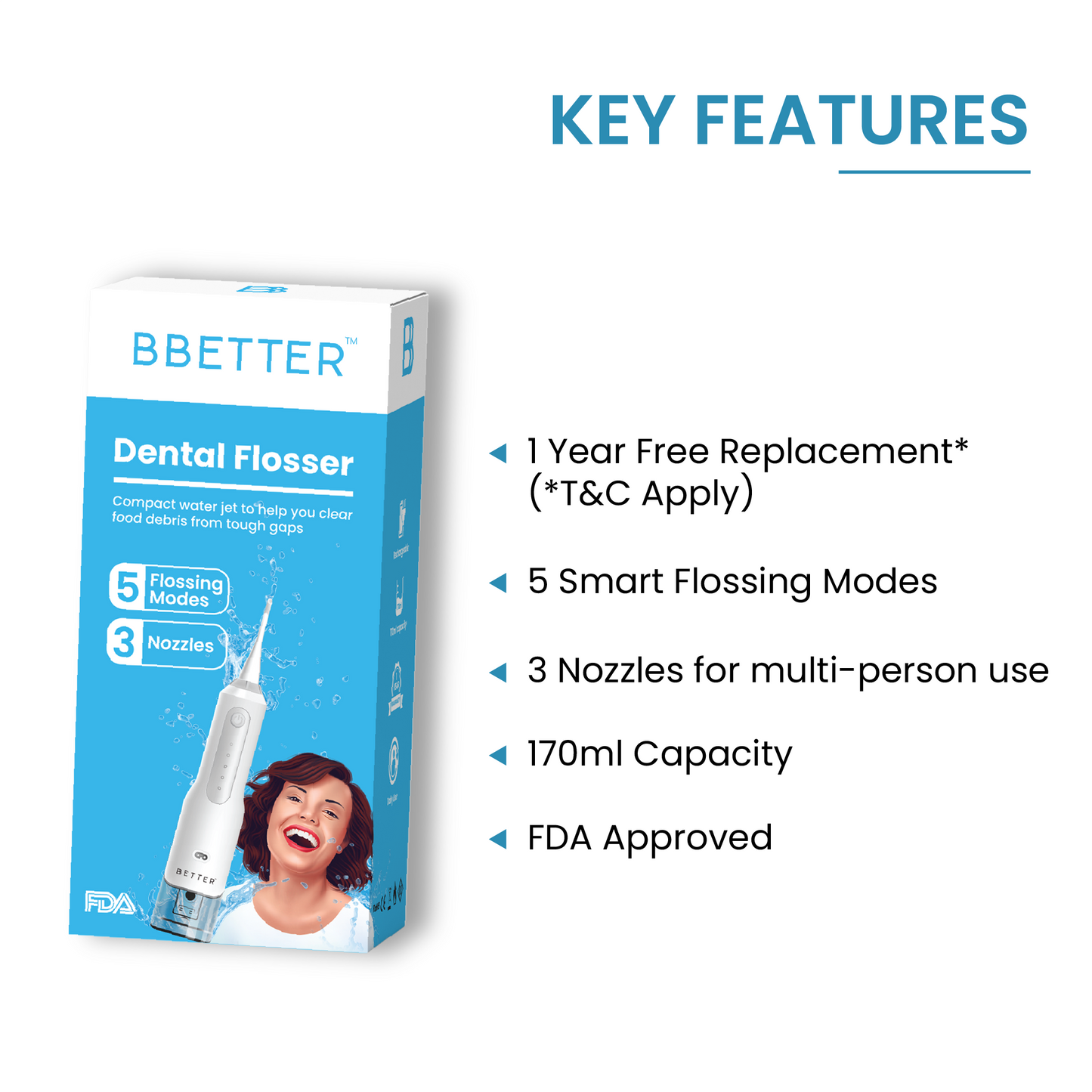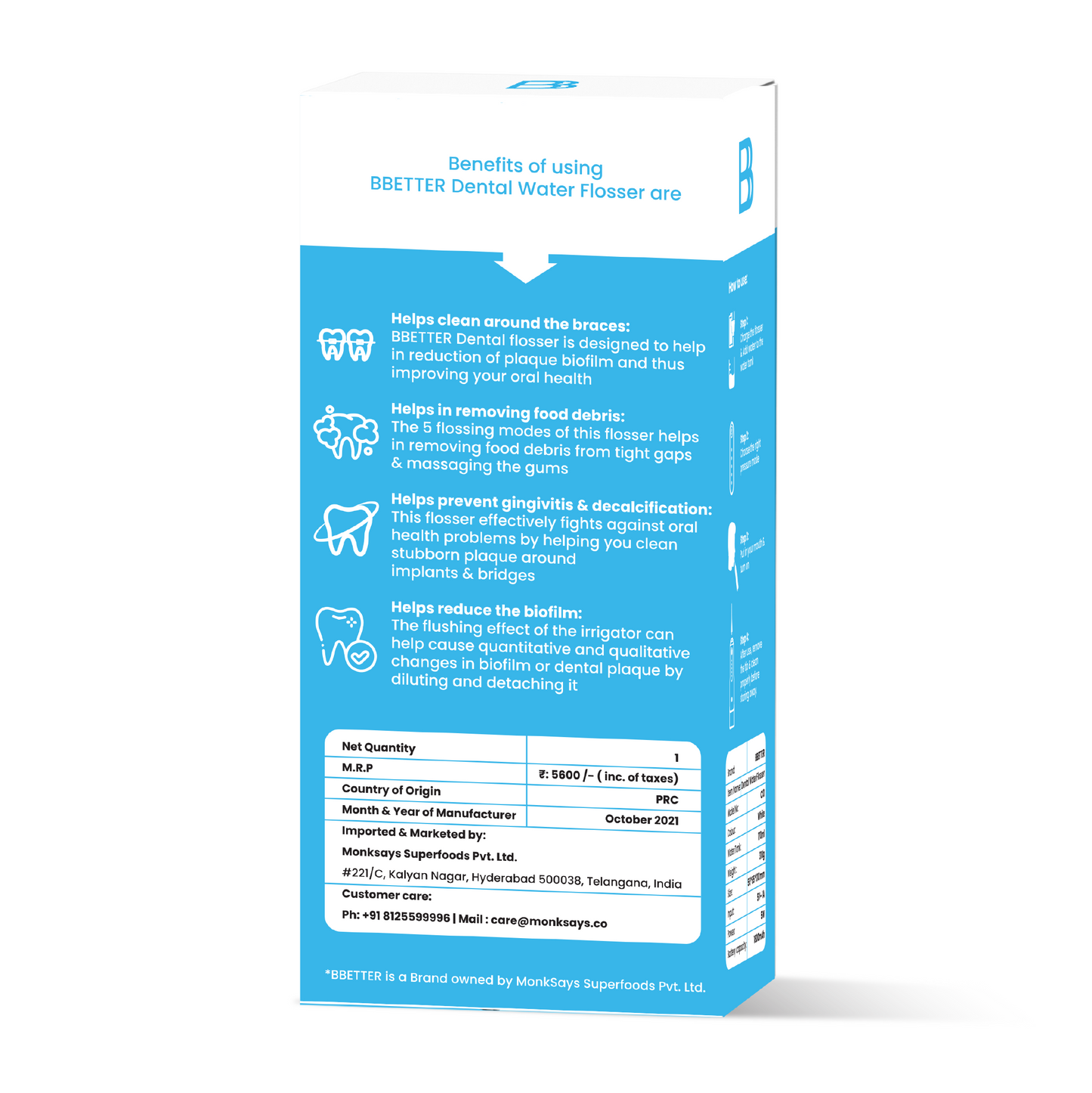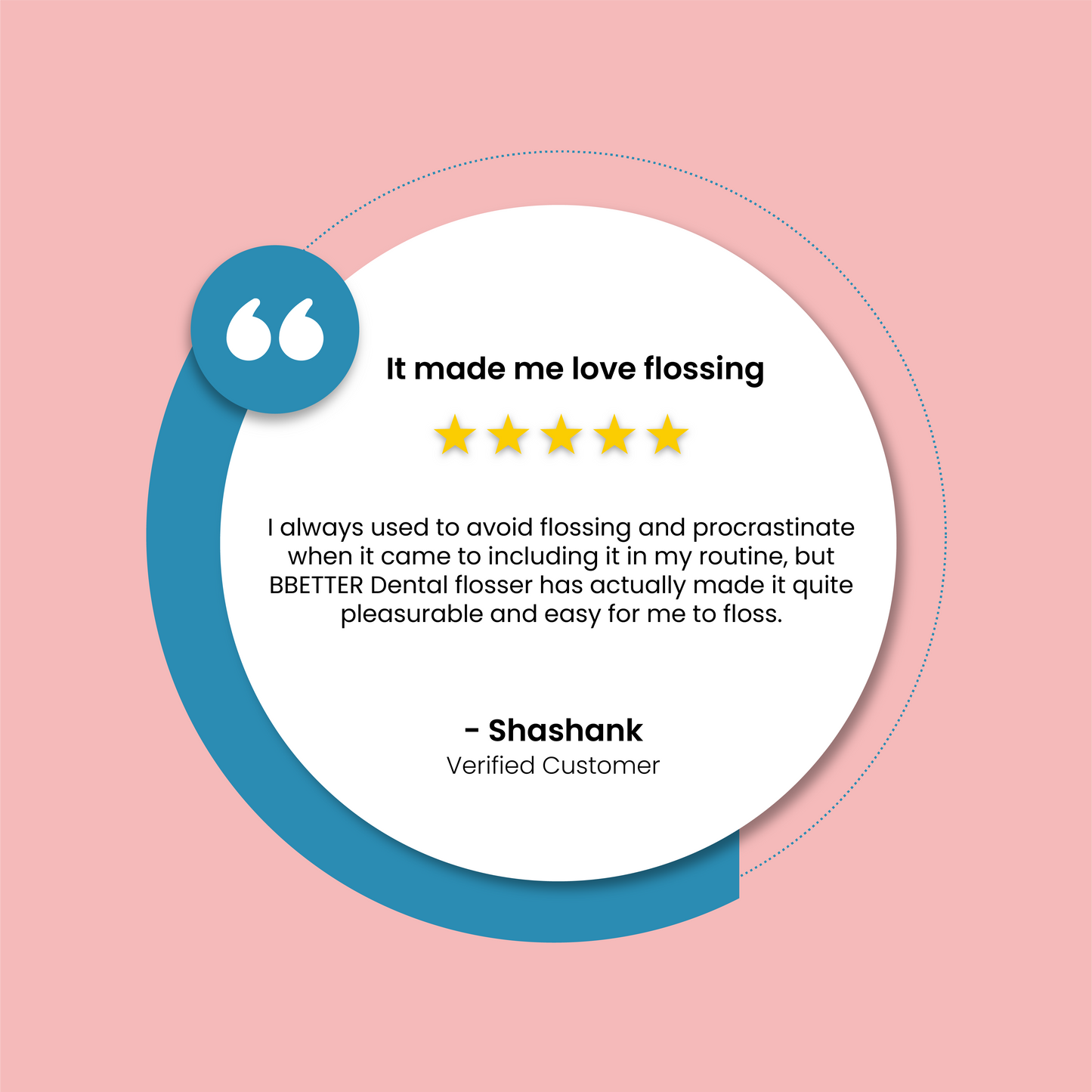 About Dental Flosser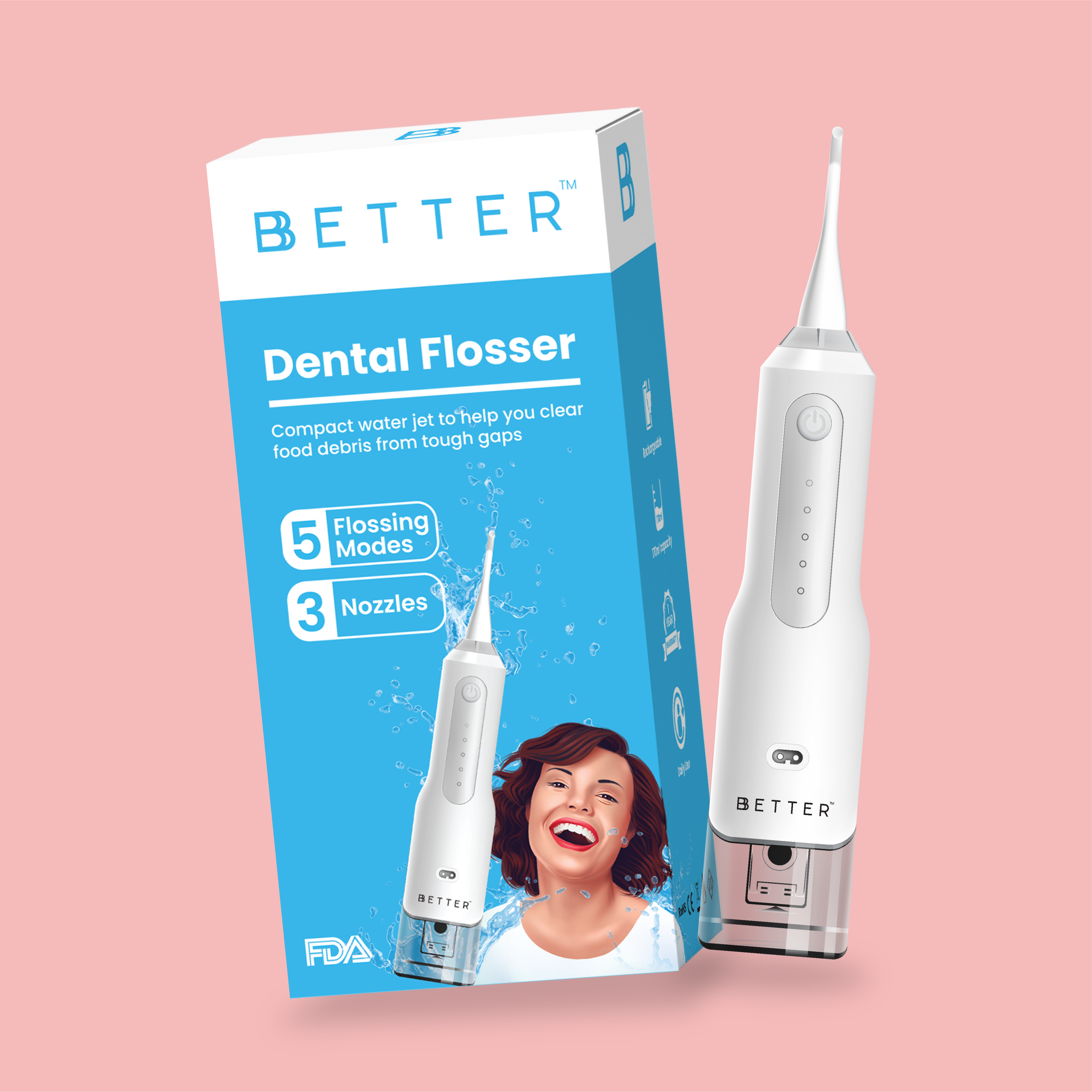 BBETTER Dental Flosser is designed to make your dental care easier and your dentist happier. It makes sure there are no plaques or tartar left to damage your dental health. Flossing with this water flosser is also quite the vanity instead of a duty. Avoid going through big and painful dental procedures by taking care in advance.
Dental Flosser Key Benefits
Helps make gums healthier
Over 4500 Indian Athletes Trust BBETTER
Our Indian athletes use BBETTER supplements regularly and also won medals for India in International Championships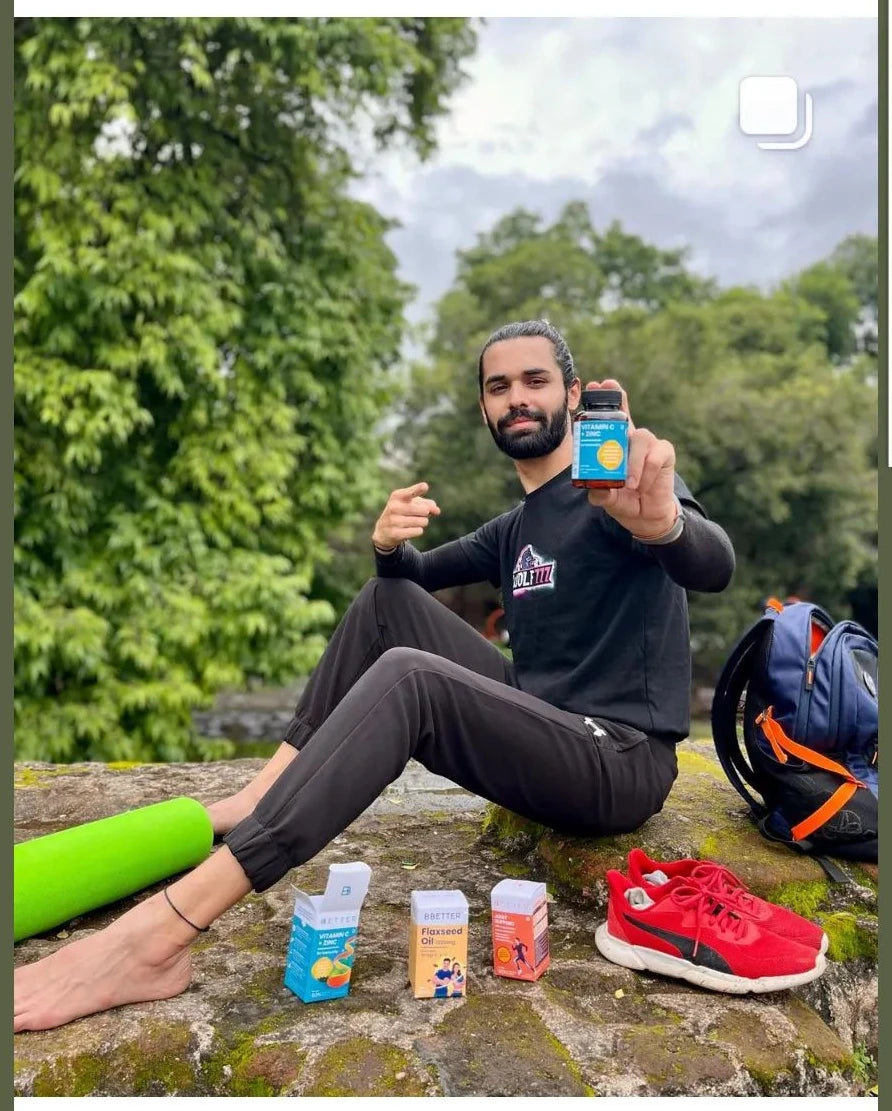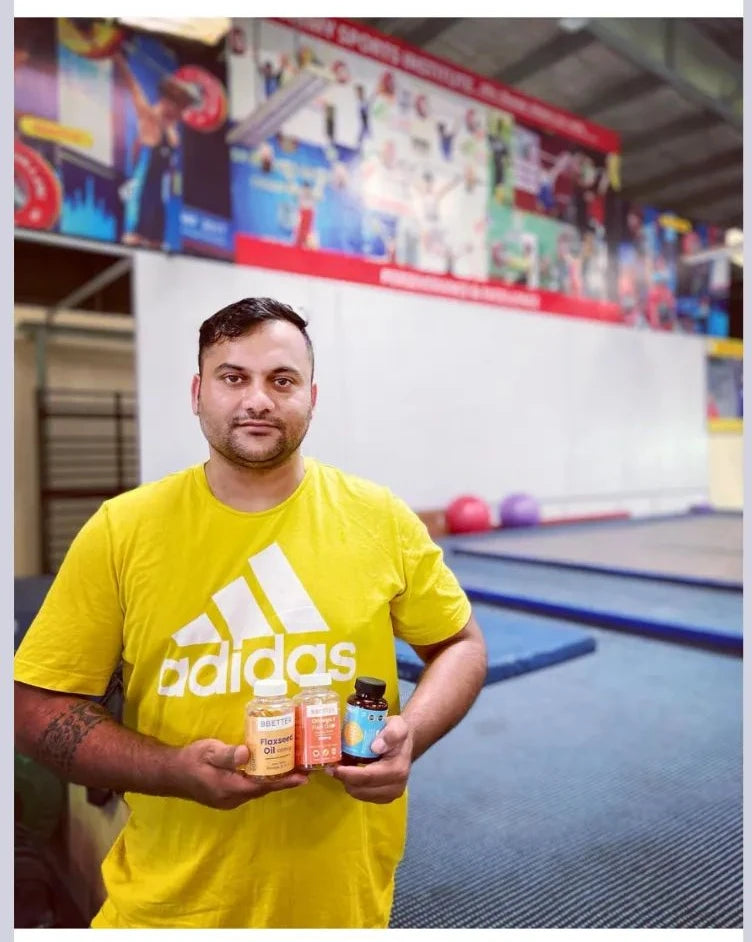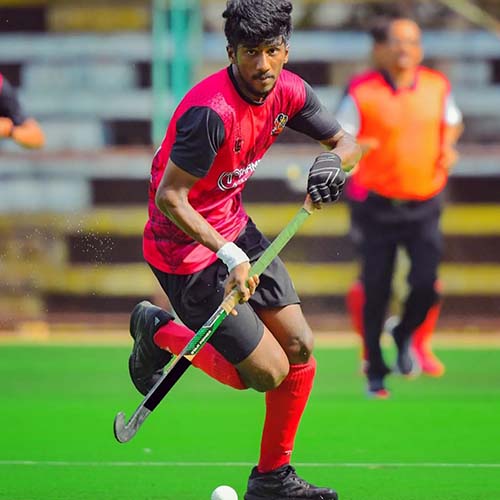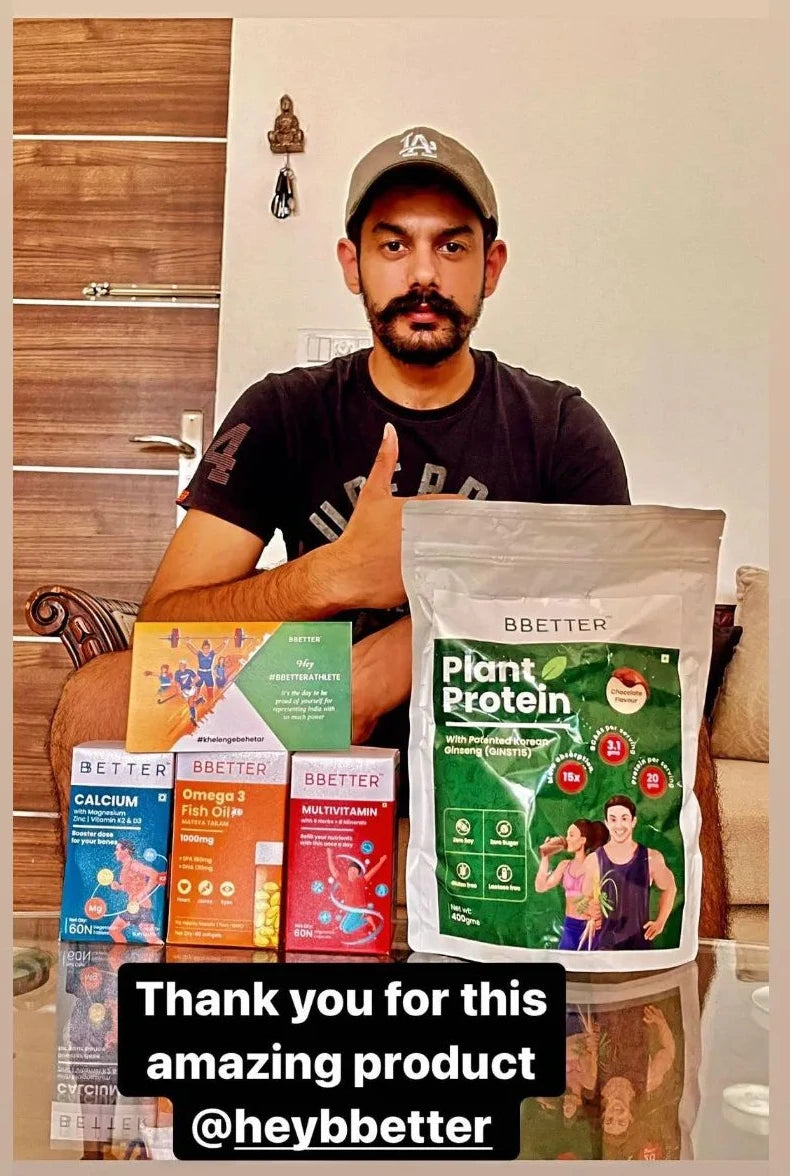 Who will benefit from
You can benefit from this if:
You are a lazy flosser.
You need to take care of your oral hygiene more often.
You want to make flossing a habit.
How Dental Flosser works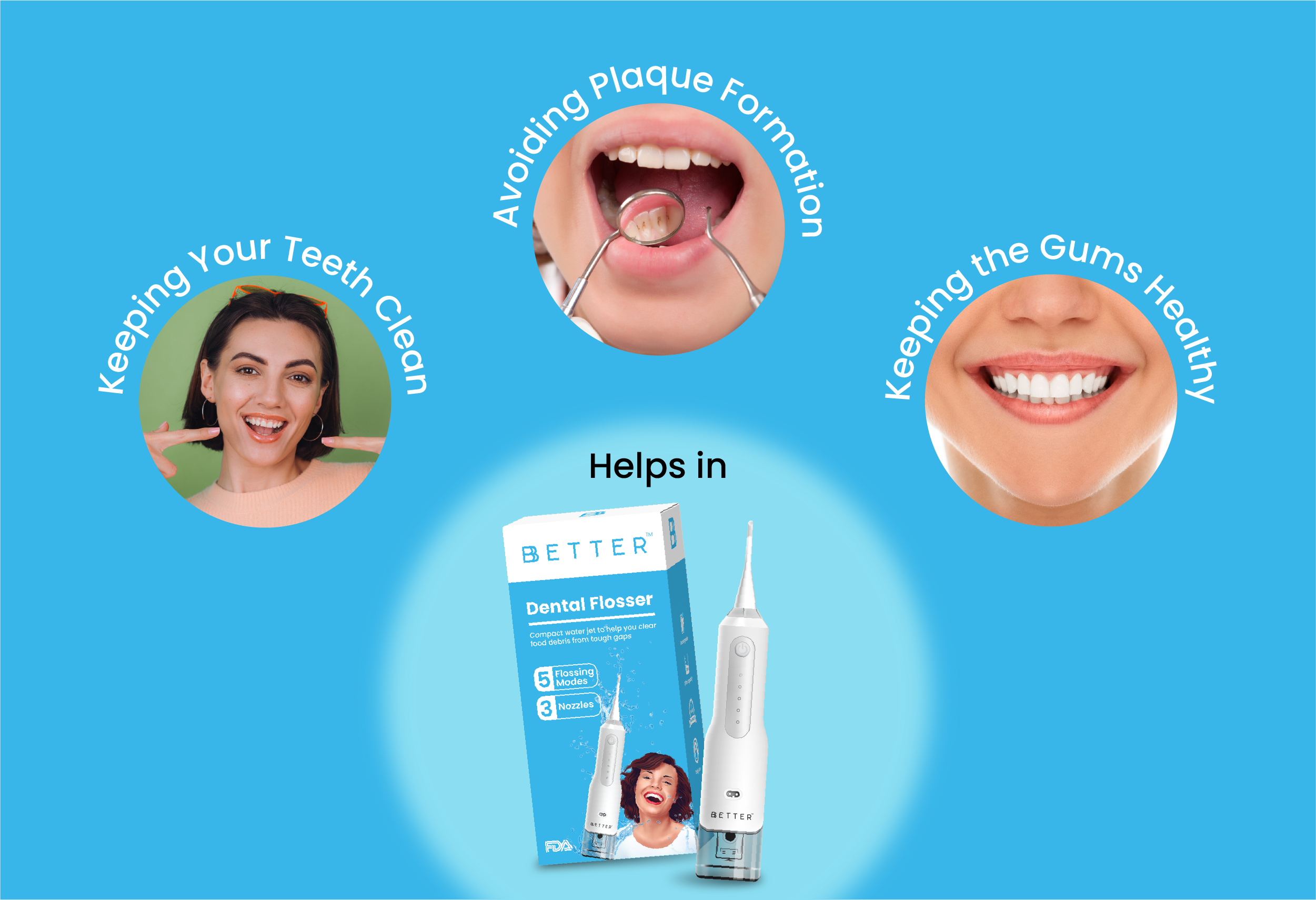 Helps in
Keeping your teeth clean
Avoiding plaque formation
Keeping the gums healthy
Benefits of Dental Flosser
The electronic water dental flosser is the newest model of flossing. It is highly effective and easier than the traditional flossing method.
It has different modes of flossing that can be beneficial for people with different kinds of flossing needs. Individuals with both highly sensitive & tough to maintain teeth can benefit from it.
The new water flosser comes with multiple nozzles. Where it might seem like quite an investment, it can easily be used by different members of a family due to its multi-nozzle features.
The water dental flosser helps you to easily remove plaque, bacteria, or the food particles that get stuck in hard-to-reach places inside your mouth.
This can reduce your chances of developing gum-related diseases like gingivitis.
The traditional method of flossing is not the prettiest and many individuals tend to procrastinate using it even after knowing how beneficial it is. There is no sense of pleasure attached to the traditional method of flossing and hence it can simply end up in your medical cabinet unused at times.
Water dental flosser on the other hand gives you a much more pleasurable experience, with almost no manual work required as it uses the force of water to floss your teeth efficiently. One can also claim a sense of vanity while using it. Using the dental water flosser might become your new favorite activity you look forward to as your self-care routine after sheet masks & eye patches.
Water dental flosser is the most efficient, habit-forming dental care that would improve your dental hygiene majorly and make your dentist proud the next time you visit them.
FAQ's
Does this come with a 1 year free replacement?
This product comes with a 1-year free replacement offer that you can be eligible for only if you register within 7 days of receiving your order through the link on the warranty card.
Can we clean the water tank?
BBETTER Dental flosser's water tank can be easily cleaned and maintained for utmost hygiene.
As the BBETTER Dental flosser is portable and rechargeable, it is absolutely travel-friendly.